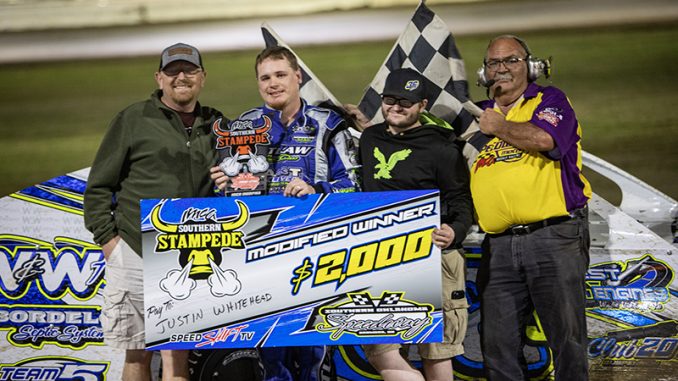 ARDMORE, Okla. (March 12) – Justin Whitehead started his rookie season hoping to get a single IMCA Modified feature win.
It took the Texarkana, Texas, driver just two starts to accomplish that goal.
The runner-up on March 7 at Ardmore when Chris Bragg raced to career win number 101 in the division, Whitehead led the last 22 laps in winning the Southern Stampede main event, and $2,000, Thursday night at Southern Oklahoma Speedway.
Jeff Taylor and R.C. Whitwell were next across the stripe.
"I'm a big Jeff Taylor and R.C. Whitwell fan," said Whitehead, well aware of who was chasing him as the race wound down. "I just concentrated on hitting my marks. That's all I could do."
"The last caution came with four to go," he added. "I don't normally count laps but I was counting those."
Wheeling a car owned by Billy White at W & W Timber, Whitehead had dropped back to fourth after starting the 25-lapper from the pole. He went to the top side of the track to rally and outrun a field of heavy hitters from seven states.
"We try to make it to Ardmore as often as possible. It's 210 miles one way from home so it's not a hop and a skip," the new Fast Shafts All-Star Invitational ballot candidate stated. "I wanted to win once this year but never expected to win one like this, especially with those guys there."
Tyler Stevens and Jared Hoefelman rounded out the top five.
Whitehead moved to the Modified division after winning 10 Smiley's Racing Products Southern SportMod features the past two seasons.
Tommy Fain and Tate Butler were $1,000 winners in IMCA Sunoco Stock Car and Southern SportMod main events, respectively.
Fain led all 20 laps from the pole, pulling away from the pack following each of three restarts. He ran one groove up from the bottom before switching to the lowest line six circuits in and outrunning hard-charger Andy Altenburg to the checkers.
"That track has been a nemesis to me," said Fain. "It was good to finally finish one."
Bryan Schutte was third.
Also first on opening night at Ardmore, Butler made it two wins in two 2020 starts after a long run in third. He caught Brandon Watson for second before getting the best of Gregory Muirhead in a lengthy battle for the front spot.
The fourth-year Southern SportMod driver, sponsored by Knowles Performance Engines, Hoosier Southwest, TCC Carbs, Curtis at Western Flyer Race Cars ad Dark Horse Racing Shocks, earned career win number 12 in the division ahead of Muirhead and ninth starting Jared Baird.
Friday and Saturday Stampede events were lost to inclement weather.
Feature Results
Modifieds – 1. Justin Whitehead; 2. Jeff Taylor; 3. R.C. Whitwell; 4. Tyler Stevens; 5. Jared Hoefelman; 6. Fred Wojtek; 7. Matt Guillaume; 8. Chad Melton; 9. Kenny Kostenbader; 10. Chris Elliott; 11. Matt Bonine; 12. William Gould; 13. Mike Goodson; 14. Cory Sauerman; 15. Curtis Allen; 16. Jason Hilliard; 17. Travis Bragg; 18. Brint Hartwick; 19. Chris Bragg; 20. David McKay; 21. Christopher Luttmer; 22. Michael Ables; 23. Jerry Ensey.
Stock Cars – 1. Tommy Fain; 2. Andy Altenburg; 3. Bryan Schutte; 4. Troy Burkhart; 5. Bobby Miller; 6. Marcus Hahn; 7. Todd Decker; 8. Jordan Zillmer; 9. Michael Attebury II; 10. William Gould; 11. Brandon Hopper.
Southern SportMods – 1. Tate Butler; 2. Gregory Muirhead; 3. Jared Baird; 4. Rodney White; 5. Brandon Watson; 6. Skylar McFarland; 7. Kyle Robinson; 8. Matthew Day; 9. Chance Whitworth; 10. Raymond Hoedebeck; 11. Michael McCullough; 12. Matt Beasley; 13. Dan Day; 14. Tommy Dove; 15. Chase Vineyard; 16. Travis Penrod; 17. Devin Chambers; 18. Tim Warner; 19. R.C. Gregg; 20. Jeremy Henry; 21. Dalton Hickman; 22. Roy Tibbs; 23. Ricky Wilkerson; 24. Brandon Gritz; 25. Kale Westover.