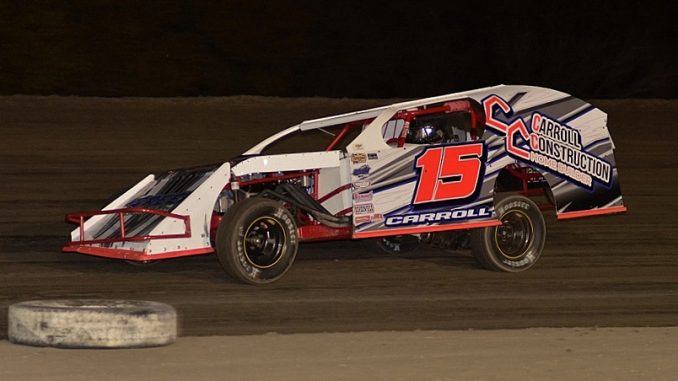 By J.M. Hallas 
PLEASANTON, Texas (March 7) – Chris Carroll took home the $1,000 win in the IMCA Modified 20-lapper, getting the best of some stiff competition and putting his name on the Fast Shafts all-Star Invitational ballot Saturday at I-37 Speedway.
The opening night checkers came ahead of Cody Tidwell and Nebraska visitor Chad Andersen.
Carroll made his drive from the third row, running down Andersen for the lead with the two side by side on lap eight and Carroll getting the top spot a lap later. Tidwell moved into second just after midway while Jared Maupin caught Dillon Tindall for fourth.
While Carroll inched ahead, Andersen pressured Tidwell for second and Rick Green and Tindall scrapped for fifth. Carroll had a five-car length advantage on Tidwell at the white flag and motored to the win.
"I watched Chad race a little bit and we raced with him last year. He's a pretty good guy and defi­nitely gave me room," Carroll said. "Once I got under him I got tight too and pushed both of us out to the wall. He gave me room, didn't cut back down on me and I had room to gather it back up. The rest is history. I got out front and thankfully it wasn't a longer race. I was tired, I'm getting too old."
"There was a little home track advantage in there," he added. "I kept it where I needed to keep it at. I could hear them back there. I just ran it as hard as I needed and kept a little in reserve know­ing I had the line."
Feature results – 1. Chris Carroll; 2. Cody Tidwell; 3. Chad Andersen; 4. Jared Maupin; 5. Rick Green; 6. Dillon Tindall; 7. Jamie Campbell; 8. Don Banker; 9. Robert Liese Jr.; 10. Justin Del­gado; 11. Johnny Melancon; 12. Chandler Fox; 13. Mike Trigg; 14. Marlin Samford; 15. Ryan Doyon.