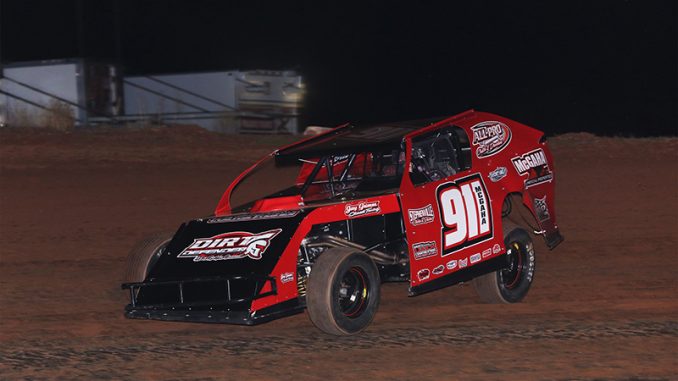 ABILENE, Texas (Feb. 14) – Josh McGaha and Gabe Tucker made return trips to victory lane at Abilene Speedway, while Derek Green won in his first-ever outing at the Texas speedplant on opening night of the Ice Breaker.
Multi-time track champion McGaha scored IMCA Modified career win number 92 Friday night while Tucker's checkers were his Smiley's Racing Products Southern SportMod career 113th.
Minnesotan Green, meanwhile, led all 32 laps of the Prelude To The Tour feature for IMCA Sunoco Stock Cars, contended by nearly 80 drivers. The checkers were his IMCA career 91st.
Most recently the winner of Abilene's 2019 season-ending Ryan Bard Memorial Southern Challenge, McGaha started from the pole, chased Mark Carrell across the stripe after the first lap and then went to the bottom for the lead on lap two.
Jason Wolla settled into second on lap five. Carrell and Jesse Sobbing tussled over third following a lap 12 restart with Sobbing eventually getting the upper hand. Mike Hansen and Carrell completed the top five as McGaha pulled away to win by half a straightaway.
"It was nerve wracking as all get out to start on the pole but we've made a lot of laps at this place," he said. "I had a dang good car and it was a dang good night for us. We'll take it."
Also a Southern Challenge winner last October, Tucker ran his Ice Breaker streak to five in a row. He caught Cody Thompson following a restart for second and then reeled in Dean Abbey the next time around.
Tucker's advantage at the finish was five car lengths, with Abbey, Thompson, Kale Westover and Damon Hammond next. 
Three cautions over the first seven laps are all that slowed Green in his drive to the Stock Car victory.
Pulling away after midway, Green looked more like an Abilene regular than a first-time visitor to the track. Sobbing chased him all 20 laps and finished second, with Brian Blessington, Jason Josselyn and Jason Rogers rounding out the top five.
McGaha banked $700 while Tucker and Green both took home $600.
Feature Results
Modifieds – 1. Josh McGaha; 2. Jason Wolla; 3. Jesse Sobbing; 4. Mike Hansen; 5. Mark Carrell; 6. Dustin Robinson; 7. John Gober; 8. Danny Hogue; 9. Austin Howes; 10. Jeffrey Abbey; 11. Shane DeMey; 12. P.J. Egbert; 13. Cody Tidwell; 14. Chad Hertel; 15. Mikel Powers; 16. Mike Goodson; 17. Tyler Iverson; 18. Nick Roberts; 19. Chris Elliott; 20. Mike Petersilie.
Stock Cars – 1. Derek Green; 2. Jesse Sobbing; 3. Brian Blessington; 4. Jason Josselyn; 5. Jason Rogers; 6. Marcus Hahn; 7. Abe Huls; 8. Jason Adcock; 9. Westin Abbey; 10. David Sanford; 11. Dan Mackenthun; 12. Dean Abbey; 13. Mike Petersilie; 14. Chad Schroeder; 15. Cary White; 16. Kirk Martin; 17. Kyle Falck; 18. Tommy Fain; 19. Kyle Slader; 20. Elijah Zevenberger.
Southern SportMods ­– 1. Gabe Tucker; 2. Dean Abbey; 3. Cody Thompson; 4. Kale Westover; 5. Damon Hammond; 6. Matt Mueller; 7. Lawrence Mikulencak; 8. Brian Osantowski; 9. G.W. Egbert IV; 10. Kevin Ward; 11. Mike Watkins; 12. Mark Patterson; 13. Aaron Alley; 14. Danny Cavanagh; 15. David Sanford; 16. Tyler Soppe; 17. Tyler Fain; 18. Bradley Poor; 19. Gary Underwood; 20. Brantley Beatty.