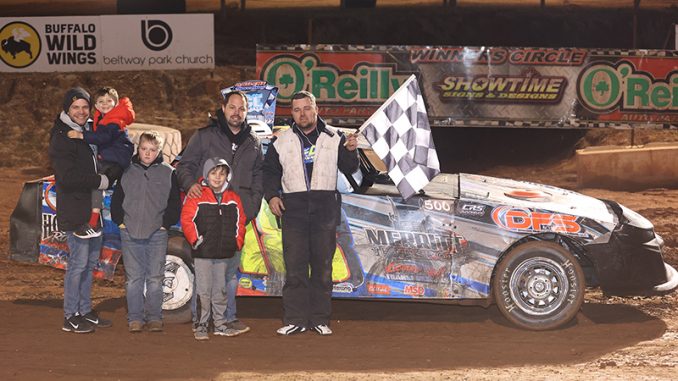 ABILENE, Texas (Feb. 18, 2022) – A driver with nearly 200 feature wins already to his career credit raced to an IMCA.TV Ice Breaker first checkers Friday at Abilene Speedway. 
P.J. Egbert led the last 17 of 20 laps after taking advantage of an early restart to score the $750 IMCA Sunoco Stock Car victory, his weekly point season first in the class since 2018 and first-ever at Abilene's long-running February special.
"I've been fast here before but never had luck on my side," said Egbert, from Copperas Cove and newly eligible to qualify for the B & B Racing Chassis All-Star Invitational. "It's definitely good to win here. It starts your season off on a good note."
Egbert had started outside the second row and was still in fourth, behind Caleb Stone, Jason Rogers and Matt Guillaume, when that early caution came out.
"When we took off on the restart, the second and third place cars went to the middle to the top of the track, the leader kind of missed the bottom and I pretty much passed all three of them," Egbert said. "After that I was just cruising, hitting my marks and trying not to give up the bottom."
Egbert stretched his lead out to more than half a straightaway as the race stayed green to the finish. Guillaume ended in second while Shelby Williams and Jesse Sobbing came out of 'B' features to finish third and fourth, respectively.
Williams advanced nine spots while Sobbing was a plus 10. Rogers completed the top five.
Egbert's previous best Ice Breaker finish was on opening night in 2008, his IMCA Modified national championship season.
Another former national champion making his way to victory lane Friday night was William Gould, who added to his Ice Breaker hardware collection with the $700 IMCA Modified win. Sobbing was second and Fred Wojtek third.
Payton Zentgraf got the Ice Breaker crown on its feet, making the high line stick on the final set of turns to pass Bradley Poor for the $600 Smiley's Racing Products Southern SportMod checkers. Third was Robby Crabtree.
Zentgraf's win was his IMCA career first and came in his first Ice Breaker start as well.
"I was definitely on cloud nine. We bust our butts working on this car," he said. "I didn't slow down going into the final turns. I figured we had a good enough car and it paid off for us."
And Randy Martin was the $250 winner in a Mach-1 Sport Compact 20-lapper that ran caution free. Sean Leasure and Frank Lackey went 2-3.
Feature Results
Stock Cars – 1. P.J. Egbert; 2. Matt Guillaume; 3. Shelby Williams; 4. Jesse Sobbing; 5; Jason Rogers; 6. Elijah Zevenbergen; 7. Tyler Iverson; 8. Dallon Murty; 9. Caleb Stone; 10. Taylor Carver; 11. Dustin White; 12. Chad Hertel; 13. Bosco Garrett; 14. Randy Weaver; 15. Haydan Hartwick; 16. Allen Bradley; 17. Jack Miles; 18. Tim Clonch; 19. Damon Richards; 20. J.D. Davis.
Modifieds – 1. William Gould; 2. Jesse Sobbing; 3. Fred Wojtek; 4. Josh McGaha; 5. Jim Thies; 6. Brint Hartwick; 7. Shane Priddy; 8. Michael Ables; 9. Brandon Clough; 10. Dave Trauernicht; 11. Vince Ogle; 12. Beau Collins; 13. Steve Askew; 14. Caleb Stone; 15. Josh Cain; 16. John Webb; 17. Steven Whiteaker Jr.; 18. Kade Ogle; 19. Cody Tidwell; 20. Danny Hogue.
Southern SportMods – 1. Payton Zentgraf; 2. Bradley Poor; 3. Robby Crabtree; 4. Austin Moore; 5. Tim Hamilton; 6. Leland Cruz; 7. Terry Owen; 8. Gavin Faulks; 9. Zane Goff; 10. Bret Bush; 11. Michael Scott; 12. Corey Ross; 13. Cole Bishop; 14. Gary Underwood; 15. Michael Watkins; 16. Hunter Welch; 17. Bubba Ross; 18. Ragen Martin; 19. Matt Fox; 20. Tony Spencer.
Sport Compacts – 1. Randy Martin; 2. Sean Leasure; 3. Frank Lackey; 4. Steven Bevills; 5. Keagan Haralson; 6. Chase Martin; 7. Michael Trammell; 8. Brandon McFall; 9. Dustin Virkus; 10. Kollin Teafatiller; 11. Kelly VanDriel; 12. Kooper Teafatiller; 13. Tylan Davis; 14. Daniel Thompson; 15. Gage Davis; 16. Shawn Miles.