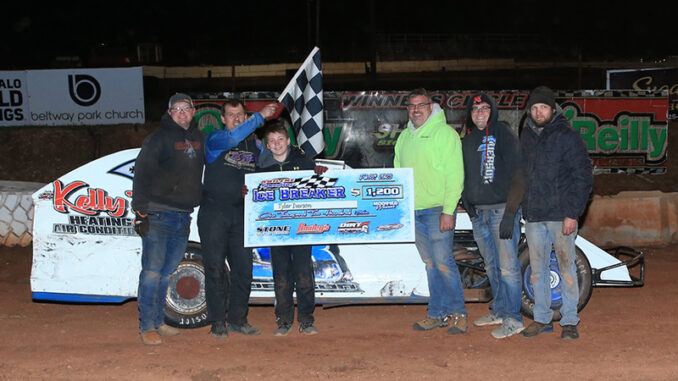 ABILENE, Texas (Feb. 18, 2023) – A regular at the IMCA.TV Ice Breaker finally made the long tow home with a feature winner's trophy.
Tyler Iverson loaded up the hardware along with Fast Shafts All-Star Invitational qualifying eligibility following Saturday's Friesen Performance IMCA Modified victory, then headed home to Albion, Neb.
"We have been going to the Ice Breaker since about 2010 and had never won a feature," Iverson said, after leading all 20 laps and taking the checkers ahead of four-time Ice Breaker winners William Gould and Josh McGaha. "I knew he (Gould) was right behind me and with the restarts, the key was making sure I didn't drive too hard into the corner."
"We've been chasing a win here for a long time and it seems like we finished second or third a lot," added the Friday night runner-up. "It was great for us to finally get a win at Abilene."
Shelby Williams got his first Abilene win since 2008, collecting $1,500 along with the IMCA Sunoco Stock Car checkers, while John Neal Reid outran Bradley Poor in the $1,000 to win Smiley's Racing Products Southern SportMod headliner.
Williams replaced his radiator after a Friday night crash, borrowed a transmission from McGaha after his Saturday heat and then led every lap of the night two main event.
"We changed a little bit here and there from what we did earlier in the season at Cocopah and from Friday night," said Williams, who caught the back of the field late in the race. "Everything from track conditions to setup on Saturday played out in our favor. It was really nice to be able to go to Abilene and win. It's been a long time since we were able to do that."
Gregory Muirhead was second and G.W. Egbert IV took third.
Reid's victory from the pole also came in flag-to-flag fashion, and ahead of six-time Ice Breaker king Poor.
"We changed a bunch of stuff after finishing second on Friday. The track was totally different and we were dialed in on Saturday," he said. "I've been coming here three or four years and have chased the 48 car (Poor) so many times – I told my crew chief Saturday night was going to be our night. We threw a bunch of stuff at the car and it worked perfect. We were pretty excited about that."
Mark Patterson rounded out the top three.
Winner of the Mach-1 IMCA Sport Compact feature was Keagan Haralson with Steven Bevils and Randy Martin next across the stripe.