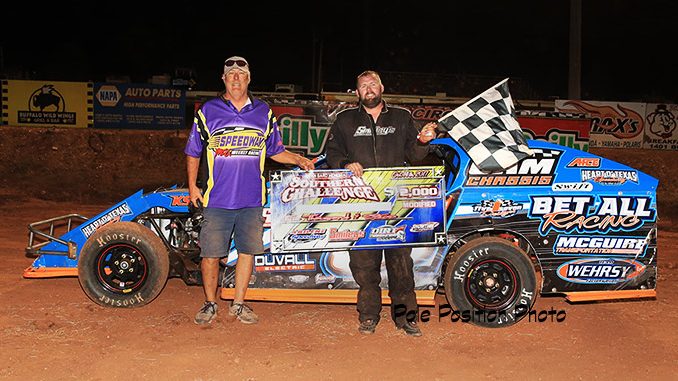 ABILENE, Texas (Oct. 14) – Another win at another late-season IMCA Modified special put another $2,000 in Chase Allen's bank account.
Allen aced Abilene Speedway's Ryan Bard Memorial Southern Challenge main event, taking the lead early and running away from the rest of the 20-car field.
"We got a little redemption this year, thankfully," said Allen, who broke leading his previous Southern Challenge outing. "We had a tough Friday night in qualifying and tore up the car some but we got everything fixed and we were fast the next night."
The 2013 race winner, Allen started outside row two and passed tough customers Dean Abbey on the outside and Josh McGaha on the inside in making his way to the front.
Abbey ended his night in second. Chris Elliott, Tommy Fain and McGaha rounded out the top five in the 25-lapper.
Allen had raced his way onto the Fast Shafts All-Star Invitational ballot by winning Kennedale Speedway Park's rescheduled Showdown special the previous weekend.
Other winners at Abilene's 23rd annual Southern Challenge were Andy Roller in the IMCA Sunoco Stock Cars, Jeffrey Abbey in the Scoggin-Dickey Parts Center Southern SportMods and Ryan Wilkerson in the IMCA Sunoco Hobby Stocks.
Roller and Abbey both earned $1,700 while Wilkerson took home $650.
A two-time Southern Challenge Hobby Stock winner, Roller got the best of Westin Abbey in a back-and-forth, side-by-side Stock Car feature that was decided by about half a car length.
Roller had started outside the front row, fell back as far as fourth and got the lead back following an early restart. Cautions slowed the finish and Roller admitted that Abbey had the faster car, but he held on for the hotly contested checkers.
Billy Wade, Dan Day and defending race winner Kirk Martin ran third through fifth, respectively.
Jeffrey Abbey tuned up for defense of his Southern Challenge SportMod title by winning his Friday qualifier from 11th starting.
He caught Kale Westover for the lead in lapped traffic, then held off Rodney White and Westover for the victory.
Robert Scrivner was fourth and fifth went to Dustin Robinson.
Wilkerson drew the pole, then tussled with 2016 race winner Gerald Spalding Jr. before getting the lead back – also in lapped traffic – for good just after midway.
A seven-time winner at Abilene during the IMCA Speedway Motors Weekly Racing point season, Wilkerson was three car lengths ahead of Cody Stone at the finish.
Completing the top five were Wesley Mayer, Cory Stone and Joseph Williams.
Feature Results 
Modifieds – 1. Chase Allen; 2. Dean Abbey; 3. Chris Elliott; 4. Tommy Fain; 5. Josh McGaha; 6. Neal Flowers; 7. Brandon Hood; 8. Fred Wojtek; 9. Vince Ogle; 10. Chad Hertel; 11. Robby Edwards; 12. Mike McCarthy; 13. Cole Bishop; 14. Mark Patterson; 15. Kelly Allen; 16. Toby Herring; 17. Michael Svenlak; 18. Levi Ely; 19. Colin Deming; 20. Matt Guillaume.
Stock Cars – 1. Andy Roller; 2. Westin Abbey; 3. Billy Wade; 4. Dan Day; 5. Kirk Martin; 6. Joe Spillman; 7. Mark Adams; 8. Jason Adcock; 9. Michael Lamb; 10. J.D. Davis; 11. Jack Miles; 12. Hunter Russell; 13. Mark Lord; 14. Chris Graenser; 15. Jordan O'Neil; 16. Danny Brown; 17. Anthony Otken; 18. Charles Brewer; 19. Jason Batt; 20. Cary White.
Southern SportMods – 1. Jeffrey Abbey; 2. Rodney White; 3. Kale Westover; 4. Robert  Scrivner; 5. Dustin Robinson; 6. Tim Clonch; 7. Michael Martin; 8. Bradley Poor; 9. Ronnie Bell Jr.; 10. Chris Florio; 11. Justin Shaw; 12. James Hanusch; 13. Kyle Wisdom; 14. Michael Maraschick; 15. Cory Williams; 16. Tyler Fain; 17. Rodger Pierce; 18. Frank Groves; 19. Charles Garza.
Hobby Stocks – 1. Ryan Wilkerson; 2. Cody Stone; 3. Wesley Mayer; 4. Cory Stone; 5. Joseph Williams; 6. Gerald Spalding Jr.; 7. Jordan Kornegay; 8. Shawn Miles; 9. Aaron Childress; 10. Michaela Scott; 11. Jonathan Boles; 12. George Ross; 13. Rodney Sparks; 14. Ashton Hayes; 15. Clinton Brown; 16. Carolyn Botts; 17. Shaun Wright; 18. Mike Watkins.