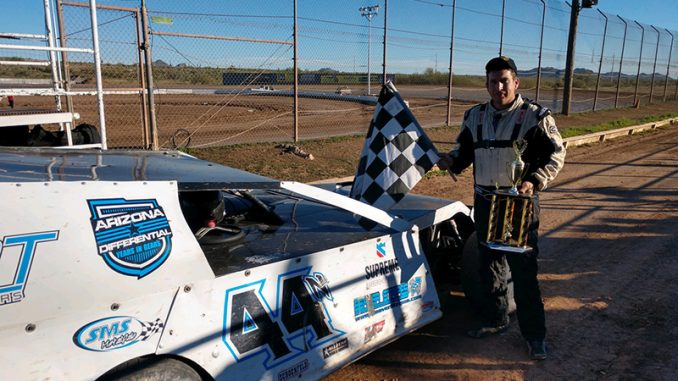 By Tony Steele 
PEORIA, Ariz. (Feb 1-2) – Chaz Baca raced to his second Winter Challenge feature win Saturday while at Canyon Speedway Park while Jason Noll took home the Sunday IMCA Modified checkers.
Both main events at Peoria paid $1,250 to the winners and both Baca and Noll were already Fast Shafts All-Star Invitational ballot candidates.
Alex Stanford looked to have the opener in hand before Baca made a late challenge for the lead. Baca closed a large gap, making his move in turn one after the white flag flew to the inside of Stanford.
As the leaders raced off turn two, Baca edged ahead on his way to take home the trophy for the second time in as many weeks. Stanford was second, ahead of Ryan Roath.
Justen Yeager paced the Sunday show, battling hard through traffic until Noll drove inside and took hold of the top spot as lap 17 came to a close. Noll led the final nine laps en route to the win ahead of Yeager and Zachary Madrid.
Andy Altenburg continued his Canyon domination with his third straight IMCA Sunoco Stock Car victory, leading the Saturday headliner from start to finish.
Sunday's 20-lapper featured eight different leaders and plenty of Best Race of the Year buzz. Chanse Hollatz led the first seven laps before swapping the lead twice with Cody Center.
Hollatz eventually grabbed the lead back to pace the field until lap 17 when a melee broke loose at the front. Hollatz, George Fronsman, Ty Warner and Cody Center traded paint and the lead in the final two laps.
Warner officially led lap 19 before Hollatz forced his way past. As the leaders exited turn two, Fronsman snuck to the inside forcing a three-wide battle for the lead. Fronsman drove deep into turn three, claiming the lead one last time on his way to pick up the win ahead of Warner, Hollatz and Center.
Defending Big Daddy Race Cars Southern Region champion Jason Duggins held off Brad King to sweep IMCA Sunoco Hobby Stock features, motoring from ninth starting on Saturday. King paced nearly all of the Sunday show before Duggins snuck around coming to the checkers and picked up the win by two hundreth's of a second.
Cody Thompson was the third and final leader in Saturday's Karl Kustoms Northern SportMod feature. Mike Wells led the majority of the event in taking the Sunday win.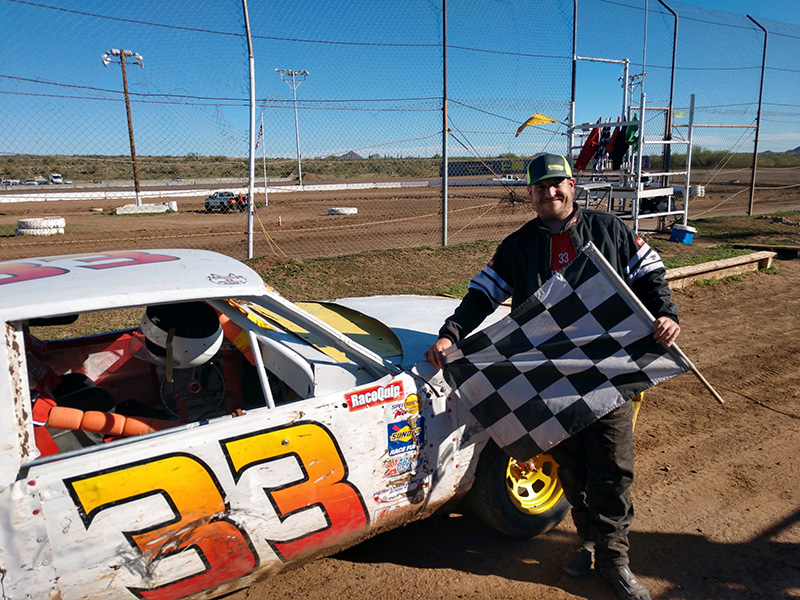 Feb. 1 Feature Results
Modifieds – 1. Chaz Baca; 2. Alex Stanford; 3. Ryan Roath; 4. Justen Yeager; 5. Regan Tafoya; 6. Austin Kiefer; 7. Tony Martin; 8. Guy Norton; 9. Braxton Yeager; 10. Jeff Stafford Jr.; 11. Jason Noll; 12. Bryson Curry; 13. Zachary Madrid; 14. Nate Warren; 15. Shane Hinsley; 16. Brent Schlafmann; 17. Bill Slocum; 18. T.J. Wyman; 19. John Parmeley; 20. Brody Spangler; 21. Garth Dushanek; 22. Cody Peabody.
Stock Cars – 1. Andy Altenburg; 2. Chanse Hollatz; 3. George Fronsman; 4. Ty Warner; 5. Lonnie Foss; 6. Cody Center; 7. Kenny Gill; 8. J.C. Parmeley; 9. Andrew Burg; 10. Rick Maier; 11. John Foster; 12. Dennis Losing; 13. Hannah MIller; 14. Raymond Doyle; 15. Chris Boulware; 16. Aaron Spangler; 17. Eric Loyd; 18. Justin Thornton; 19. Robert Cody; 20. Darryn Werkmeister; 21. Leslie Gill.
IMCA Hobby Stocks – 1. Jason Duggins; 2. Brad King; 3. Steve Bitting Jr.; 4. Paul O'Conner; 5. Kyle Williams; 6. Reven Bitting; 7. Brett Hegeman; 8. Bill Cole; 9. Chandler Dodge; 10. Pete Terwilleger; 11. Ron Roe.
Northern SportMods – 1. Cody Thompson; 2. Speedy Madrid; 3. Clay Erickson; 4. Bryan Miller; 5. Shane Simper; 6. Jerry Hislop; 7. Ty Weidner; 8. Mike Wells; 9. Tony Miller; 10. Darin Center; 11. Camron Spangler; 12. Lyle Askren; 13. Steve Bitting Jr.; 14. Timothy Allerdings; 15. Justin Erickson; 16. Dominique Askren; 17. Rene Madrid Jr.; 18. Taylor Kuehl; 19. Richard Fisher; 20. Brian Osantowski; 21. Brian Bullis.
Feb. 2 Feature Results
Modifieds – 1. Noll; 2. Justen Yeager; 3. Madrid; 4. Baca; 5. Stafford; 6. Curry; 7. Stanford; 8. Braxton Yeager; 9. Kiefer; 10. Dushanek; 11. Norton; 12. Martin; 13. Parmeley; 14. Tafoya; 15. Wyman; 16. Shane Hinsley; 17. Spangler; 18. Schlafmann; 19. Slocum; 20. Cody Peabody.
Stock Cars – 1. Fronsman; 2. Warner; 3. Hollatz; 4. Center; 5. Werkmeister; 6. Foss; 7. Altenburg; 8. Losing; 9. Loyd; 10. Kenny Gill; 11. Maier; 12. Burg; 13. Leslie Gill; 14. Cody; 15. MIller; 16. Boulware; 17. Doyle; 18. Spangler.
Hobby Stocks – 1. Duggins; 2. King; 3. Steve Bitting Jr.; 4. O'Conner; 5. Terwilleger; 6. Max Zachrison; 7. Dodge; 8. Cole; 9. Roe; 10. Reven Bitting; 11. Virgil McArthur.
Northern SportMods – 1. Wells; 2. Andy Clower; 3. Thompson; 4. Spangler; 5. Bryan Miller; 6. Speedy Madrid; 7. Osantowski; 8. Bitting Jr.; 9. Justin Erickson; 10. Dominique Askren; 11. Lyle Askren; 12. Allerdings; 13. Simper; 14. Bullis; 15. Clay Erickson; 16. Rene Madrid Jr.; 17. Hislop.