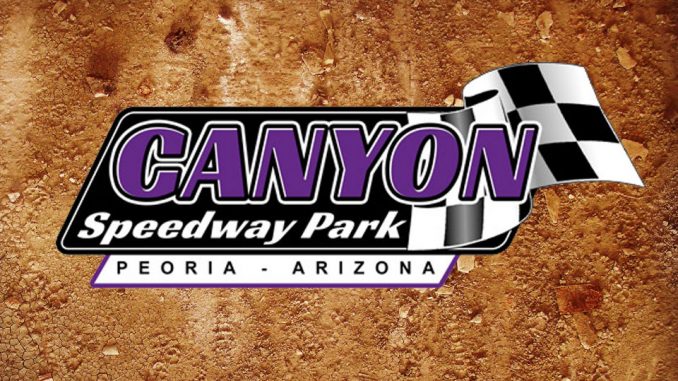 By Tony Steele
PEORIA, Ariz. (April 28) – Jason Noll picked off his third win in four events in the IMCA Modified division Saturday at Canyon Speedway Park.
Noll raced his way from sixth to an early lead, overtaking Jay Foster who started on the front row. Once Noll found himself out front, his MRT Chassis was set on cruise control to his third win in four points races at Canyon.
Chaz Baca Jr. and John Parmeley put on a good show, both coming from the fifth row to land on the podium, with Baca eventually working his way around Parmeley to finish in second.
Chase Alves accepted a $100 challenge to start in the rear of the Arizona Differential IMC North­ern SportMod field, only able to take the money home with a trip to victory lane.
Alves methodically worked his way through the field, picking off cars one by one on his trek to the front. Speedy Madrid fought Alves to the checkered, but eventually it was Alves victorious, earn­ing his $100 bonus and another trip to CSP victory lane.
In the Desert Restorations IMCA Hobby Stock feature it was another typical Joe vs. Joe battle between Peterson and Vlasity. Peterson grabbed the early lead and had a better handling car than Vlasity, which would turn out to be the ultimate difference. Peterson grabbed another feature win ahead of Vlasity and Bradley Stafford.