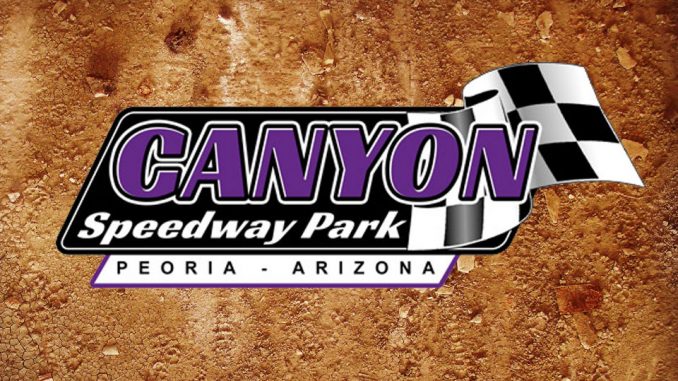 By Tony Steele 
PEORIA, Ariz. (June 8) – John Parmeley continued his hot streak at Canyon Speedway Park with his fourth victory of the year in the Arizona Differential IMCA Modifieds Saturday night, while Tay­lor Kuehl grabbed her first win of the season in the Askrens Trucking/Flexi Flyer IMCA Northern SportMods. In Allscapes IMCA Stock Car action it was once again George Fronsman in victory lane, earning his fifth win of the season. 
A new point leader has been crowned after another weekend of Modified action as Parmeley snagged a two point lead from the ever-consistent Ryan Roath. 
Jay Foster started the feature from the pole, taking off from the field for the first few laps of the race. With Foster in charge, Parmeley drove up from the eighth spot to challenge. Parmeley eventu­ally grabbed the lead from Foster as the fourth lap was clicked off, racing his way to an­other win. 
Artie Garcia led lap one of the SportMod main from the front row before Ron Poe, starting sixth, took over. Poe led until halfway, later becoming involved in an incident that also took out points contender David Jones. 
Kuehl, searching for her first win of the year joined Chase Rudolf and Speedy Madrid as all three drivers drove from beyond the fifth row to fight for the lead. Kuehl snagged the point from her 10th starting position as lap 11 completed and led the rest of the way en route to her first victory.  
Dennis Losing paced the first three laps from the front row in the Stock feature before another battle broke out between Cody Center and Fronsman. 
Fronsman grabbed the lead from Losing on lap four and never let Center see the lead as the two once again finished out in front of the field.