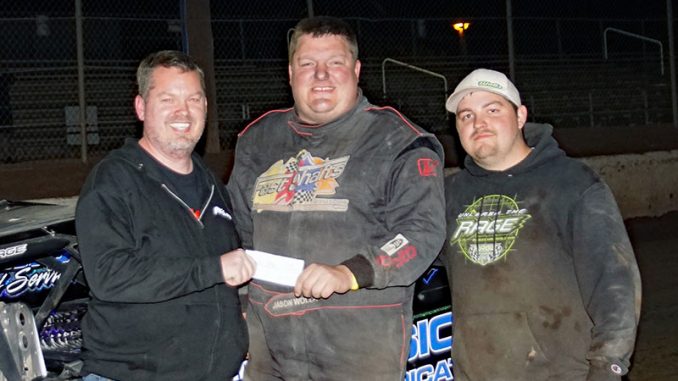 By Mike Spieker
PEORIA, Ariz. (Feb. 13) – The Karl Performance Arizona IMCA Modified Tour made its way to Canyon Speedway Park Tuesday for a practice night in preparation for rounds five and six. Follow­ing the night's test and tune session was the second round of the Dirt Dominator bracket race.
The final round came down to a heavyweight matchup between defending IMCA Modified na­tional champion, Jason Wolla, and defending tour point champion Hunter Marriott.
Marriott won the coin toss for lane choice and elected the inside line, which was where the major­ity of the rounds were won throughout the event.
That didn't matter to Wolla, however.
Marriott and Wolla got the green flag down the backstretch and were door-to-door into turns three and four. Wolla put his no. 27 machine up on the cushion and used his momentum to carry him to the lead on the front straightaway. Marriott was forced to play catch up the remaining two circuits but stayed within striking distance.
Wolla left the bottom lane open for Marriott in the final set of turns on the last lap and Marriott drove it deep into three and four. Marriott didn't have enough speed to clear Wolla as Wolla won the race back to the checkers.
"I was liking the high side the whole time on those restarts," said Wolla in victory lane. "The car was pretty decent. That was a lot of fun racing a good buddy of mine for the win like that. I was having to chase [the car] on the bottom. Hunter is such a good driver that I figured he would be coming on the high side so I cut that lane off."
With the win, Wolla picked up a $1,000 payday and joins Ricky Thornton Jr. as the only two driv­ers locked into the $10,000 Dirt Dominator finale. It was announced yesterday that the Dirt Domina­tor finale will be held Oct. 25 at Heart O' Texas Speedway in Waco during the Fall Classic.
There will be 16 Dirt Dominator events held throughout the year with the winner of each event being qualified for the finale. All Dirt Dominator events will be available for free viewing on IMCA.TV.
The Karl Performance Arizona IMCA Modified Tour continues Feb. 14-15 at Canyon Speedway Park before heading to Cocopah Speedway for three consecutive events Feb. 16-18.
Round 1:
 Hunter Marriott def. Lucas Rodin; 
Ethan Dotson def. Dylan Goplen
; Chad Andersen def. Kody Scholpp
; Chris Abelson def. Jake O'Neil
; Jeff Larson def. Zach Madrid
; Jason Wolla def. Casey Arneson; 
Lucas Schott def. Chaz Baca; Ryan Gaylord def. Lance Mari.
Round 2:
 Marriott def. Anderson
; Abelson def. Dotson; 
Schott def. Larson
; Wolla def. Gaylord.
Round 3:
 Marriott def. Schott
; Wolla def. Abelson.
Round 4:
 Wolla def. Marriott.