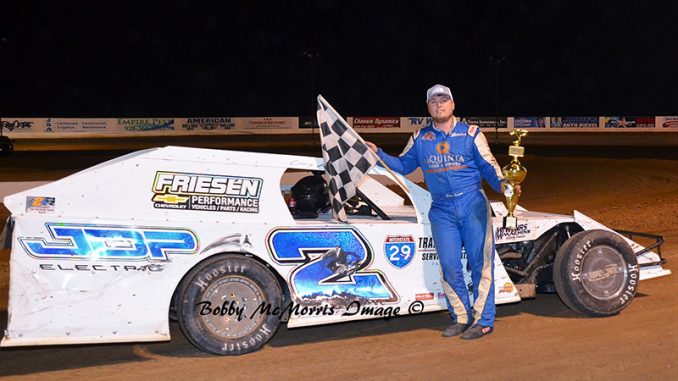 SOMERTON, Ariz. (Jan. 18) – Casey Arneson's first IMCA Modified feature win in Arizona came on the final night of Cocopah Speedway's Winter Nationals.
After finishes ranging from a solid third to a not-so-sweet 16th in his first five outings at Somerton, Arneson drew the pole start and led all 25 times around the oval.
"It was good to be able to get that first win," said Arneson, $1,000 richer and already on the Fast Shafts All-Star Invitational ballot. "We had a good car and everything worked out for us."
A couple yellows kept Arneson out of lapped traffic. Jake O'Neil, in the hunt for a fourth straight Winter Nationals victory, started fifth and got to within a couple car lengths.
Completing the top five were Tim Ward, Kollin Hibdon and 16th starting R.C. Whitwell. The win by Arneson came in an El Dorado ride he and Riley Hatfield built.
Fellow North Dakota driver and family friend Don Gumke, who'd raced with Arneson's father "back in the day" was honored with the empty pole position during parade laps.
Aaron Spangler outran Winter Nationals titlist Steffan Carey to the IMCA Sunoco Stock Car checkers for his first Somerton victory. The second-row starters crossed the stripe ahead of Friday winner Chanse Hollatz, Jody York and Leslie Grill.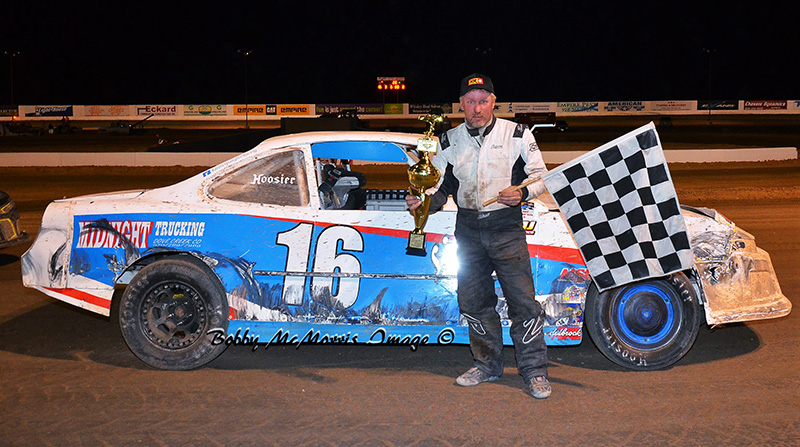 Tim Gonska motored from the outside front row starting spot to a fourth Winter Nationals IMCA Sunoco Hobby Stock victory and put the wraps on a Winter Nationals crown of his own.
Joshua Cordova, Brad King, Jim Robinson and Scott Tenney finished second through fifth, respectively.
And Cody Thompson sped from ninth at the green to first at the finish of a Karl Kustoms Northern SportMod main hotly contested by hard charger candidates.
Thompson's second Winter Nationals win came in front of eighth starting Ty Rogers, 12th starting and Winter Nationals king Chris Toth, Chase Alves and 11th starting Taylor Kuehl.
Feature Results
Modifieds – 1. Casey Arneson; 2. Jake O'Neil; 3. Tim Ward; 4. Kollin Hibdon; 5. R.C. Whitwell; 6. Jason Noll; 7. Zane DeVilbiss; 8. Marlyn Seidler; 9. Alex Stanford; 10. Joey Price; 11. Mark Carrell; 12. John Parmeley; 13. Austin Kuehl; 14. Spencer Wilson; 15. Jeff Taylor; 16. Justen Yeager; 17. Michael Thing; 18. Russell Allen; 19. Tyson Evans; 20. Anthony Hofbauer; 21. Randy Havlik; 22. Tom Berry Jr.; 23. Austin Kiefer; 24. Bobby Horton; 25. Lance Mari.
Stock Cars – 1. Aaron Spangler; 2. Steffan Carey; 3. Chanse Hollatz; 4. Jody York; 5. Leslie Grill; 6. Troy Jerovetz; 7. Cody Center; 8. J.C. Parmeley; 9. Tony Hill; 10. Andy Altenburg; 11. Loren DeArmond; 12. Gene Henrie; 13. Jake Smith; 14. Raymond Doyle; 15. Brock Hamilton; 16. Wayne Dotson; 17. Austin Daffern.
Hobby Stocks – 1. Tim Gonska; 2. Joshua Cordova; 3. Brad King; 4. Jim Robinson; 5. Scott Tenney; 6. Jason Duggins; 7. Jason Beshears; 8. Jason Penny; 9. Oscar Duarte; 10. Francisco Cordova; 11. David Callis; 12. Jeffrey Callis.
Northern SportMods – 1. Cody Thompson; 2. Ty Rogers; 3. Chris Toth; 4. Chase Alves; 5. Taylor Kuehl; 6. Miles Morris; 7. Bill Lundock; 8. Chris Theodore; 9. David Pitt; 10. Cody Daffern; 11. Justin Brierley; 12. Brock Rogers; 13. Manny Baldiviez; 14. Wayne Dotson; 15. Jimmy Davy; 16. Javier Navarro; 17. Slade Pitt; 18. Kyle Sato; 19. Mike Wells; 20. Camron Spangler; 21. Shelby Frye; 22. Brian Carey; 23. Ron Schreiner.