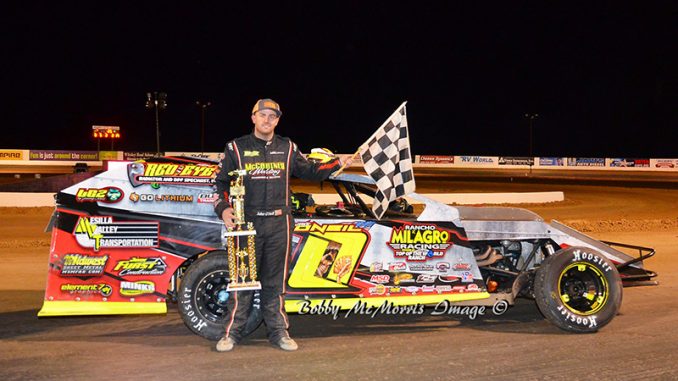 SOMERTON, Ariz. (Jan. 11) – His green to checkered run at the front of the IMCA Modified field Saturday night at Cocopah Speedway put Jake O'Neil in victory lane and on the Fast Shafts All-Star Invita­tional ballot.
O'Neil took home $1,000 as the third different winner in as many Winter Nationals shows. Jeff Taylor held off Casey Arneson in the race for second, finishing five car lengths off the pace.
Bobby Hogge IV and Lance Mari completed the top five.
Joshua Cordova became the first repeat winner at Somerton, topping the IMCA Sunoco Hobby Stock feature. Gene Henrie scored the IMCA Sunoco Stock Car victory and Michael Johnson dominated the Karl Kustoms Northern SportMod main.
Scott Tenney led the first 18 times around the track in the Hobby Stock main. Cordova had started fourth and was scored first by the width of his bumper on lap 19 and led Tenney across the stripe in the caution-free 20-lapper.
Friday winner Tim Gonska, Eric Knutson and Nathan DeRagon rounded out the top five.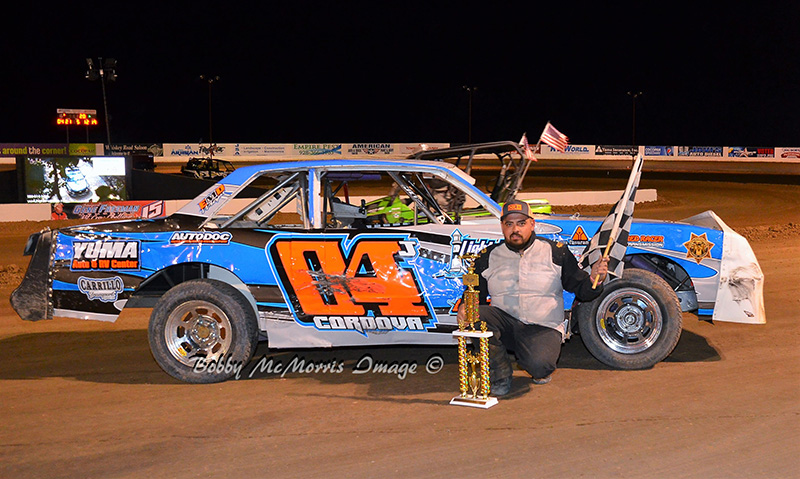 Checkers flew for Henrie in another 20-lap feature that ran green start to finish. Steffan Carey was se­cond, four car lengths back, with Aaron Spangler, Troy Jerovetz and Brendon LaBatte next.
Johnson also proved up to the task in outrunning a night two winner in Cody Thompson. He pulled away from the rest of the pack on each restart in the race to the checkers.
Ty Rogers, Chris Toth and Chase Alves were third through fifth, respectively.
Feature Results
Modifieds – 1. Jake O'Neil; 2. Jeff Taylor; 3. Casey Arneson; 4. Bobby Hogge IV; 5. Lance Mari; 6. Tim Ward; 7. R.C. Whitwell; 8. Tom Berry Jr.; 9. Justen Yeager; 10. Jerry Flippo; 11. Bobby Horton; 12. Shawn LaRocque; 13. Chaz Baca; 14. Michael Thing; 15. Austin Kuehl; 16. Spencer Wilson; 17. Russell Allen; 18. Tyson Evans; 19. Travis Mosley; 20. Kollin Hibdon; 21. Don Gumke; 22. Anthony Hofbauer; 23. Joey Price; 24. Braxton Yeager; 25. Marlyn Sedler.
Stock Cars – 1. Gene Henrie; 2. Steffan Carey; 3. Aaron Spangler; 4. Troy Jerovetz; 5. Brendon LaBatte; 6. Chanse Hollatz; 7. Tony Hill; 8. Kevin Roberts; 9. Andy Altenburg; 10. Jake Smith; 11. Nuggett Shupe; 12. Leslie Gill; 13. J.C. Parmeley.
Hobby Stocks – 1. Joshua Cordova; 2. Scott Tenney; 3. Tim Gonska; 4. Eric Knutson; 5. Nathan DeRagon; 6. Brad King; 7. Jason Beshears; 8. Jason Penny; 9. Jason Duggins; 10. Hunter Cavanagh; 11. Francisco Cordova; 12. David Callis; 13. Andy Pearce; 14. Oscar Duarte; 15. Jim Robinson.
Northern SportMods – 1. Michael Johnson; 2. Cody Thompson; 3. Ty Rogers; 4. Chris Toth; 5. Chase Alves; 6. Manny Baldiviez; 7. Camron Spangler; 8. Shelby Frye; 9. Mike Wells; 10. Miles Morris; 11. Tate Johnson; 12. Clay Erick­son; 13. Kyle Salo; 14. Ron Schreiner; 15. David Pitt; 16. Brian Carey; 17. Brandyn Johnson; 18. Taylor Kuehl; 19. Joey Klemish; 20. Justin Erickson; 21. Jimmy Davy; 22. Jimmy Wilson; 23. Douglas Hilkemann; 24. Slade Pitt.