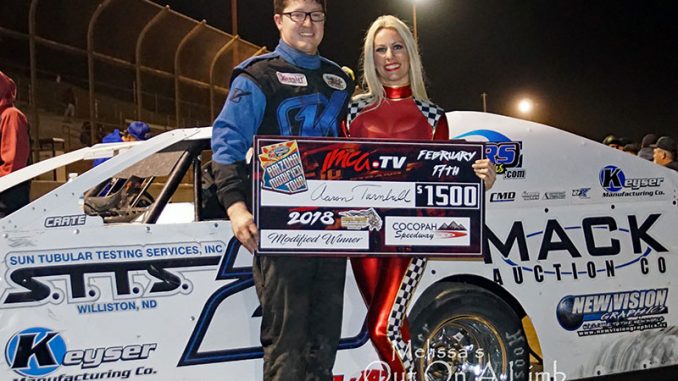 By Mike Spieker
SOMERTON, Ariz. (Feb. 18) – Aaron Turnbull dominated the penultimate night of the Karl Perfor­mance Arizona IMCA Modified Tour, leading all 25 trips around Cocopah Speedway Saturday evening.
The $1,500 victory put the Canadian clipper on the ballot for the upcoming Fast Shafts All-Star Invitational.
Pole sitter Cody Laney jumped out to the early lead at the drop of the green flag but Turnbull pow­ered around the outside off turn four to lead the opening lap. Laney quickly had his hands full with Jeff Taylor, who was seeking his best finish of this year's tour. Taylor snuck by Laney on lap three and set his sights on Turnbull, who had already established a seven car length lead.
Ricky Thornton Jr. became a contender early on as well after he moved by Laney to crack the top three.
Lapped traffic tightened things up late in the going. Turnbull's comfortable lead evaporated to just two car lengths as both Taylor and Thornton reeled him in. Thornton passed Taylor for second just as the caution flew, prompting a four-lap dash to the finish.
On the restart, Turnbull and Thornton made contact in turn one, which almost spun out Thornton. Thornton was able to regain control of his machine in the fourth position. At the other end of the speedway, Laney, who was running in third, looped his machine to bring out the final caution of the event.
Turnbull got a great restart and jumped out to a comfortable lead as the race resumed. Thornton got by Taylor exiting turn two with three to go as five cars raced for the fourth position.
Turnbull cruised to the win with Thornton in second. Jake O'Neil snuck into third, as Taylor and Chris Abelson rounded out the top five.
Fred Ryland took the lead of the Karl Chevrolet Northern SportMod feature on lap six of 20 and never looked back. Ryland pulled away to take the win. Jason George, Austin Howes, Ethan Braaksma and Brady Bjella rounded out the top five.
Feature results – 1. Aaron Turnbull; 2. Ricky Thornton Jr.; 3. Jake O'Neil; 4. Jeff Taylor; 5. Chris Abelson; 6. Hunter Marriott; 7. Alex Stanford; 8. Lance Mari; 9. Anthony Roth; 10. Tanner Black; 11. Tim Ward; 12. Ryan Gaylord; 13. Casey Arneson; 14. Spencer Wilson; 15. Austin Kuehl; 16. Russell Allen; 17. Cody Laney; 18. Marlyn Seidler; 19. Darrell Hughes; 20. Shawn Strand; 21. Riley Simmons; 22. Joey Price; 23. Lucas Schott; 24. Bob Moore; 25. Kody Scholpp; 26. Ethan Dotson.