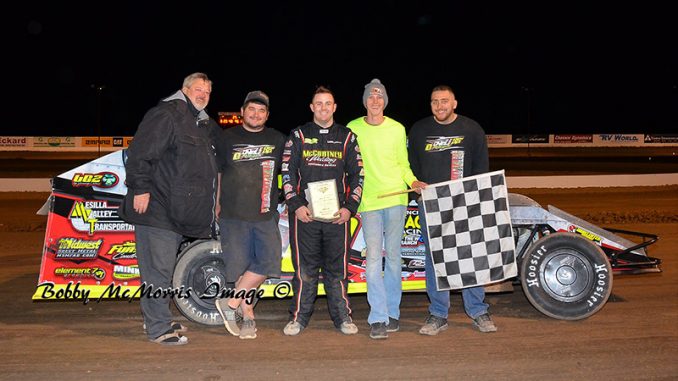 By Mike Spieker
SOMERTON, Ariz. (Jan. 16) – Some of the best racing seen to date at Winter Nationals was displayed Thursday evening, and Jake O'Neil ended the night at Cocopah Speed­way with a second straight $1,000 IMCA Modified feature win.
O'Neil made a bold three-wide pass on the high side to drive from fourth to second in the first set of corners, then powered around the outside of Kollin Hibdon to lead lap one.
Ricky Thornton Jr. moved his way up to the second spot from the fifth starting position by lap four and quickly set his sights on O'Neil. Thornton searched every inch of the oval be­fore taking command of the lead on lap 15.
O'Neil quickly mounted another charge as the lead duo sliced their way through slower traffic. O'Neil finally cleared Thornton Jr. to take the point with four laps to go and held on for the victory.
"I thought once he got by me it was over. Usually when that guy gets to the lead there is no catching him," O'Neil said. "I just threw a Hail Mary at it and started running the heck out of the car and it ended up working out."
Thornton, Hibdon, R.C. Whitwell and Tom Berry Jr. rounded out the top five.
Before the feature, the field gave the traditional four-wide salute to the fans, but left the pole position open in memory of Jamestown, N.D. driver, Don Gumke, who passed away ear­lier in the week. Gumke competed at Cocopah the prior weekend.
Defending track champion Miles Morris raced to the Karl Kustoms Northern SportMod victory. Morris held off 12th place starter Cody Thompson.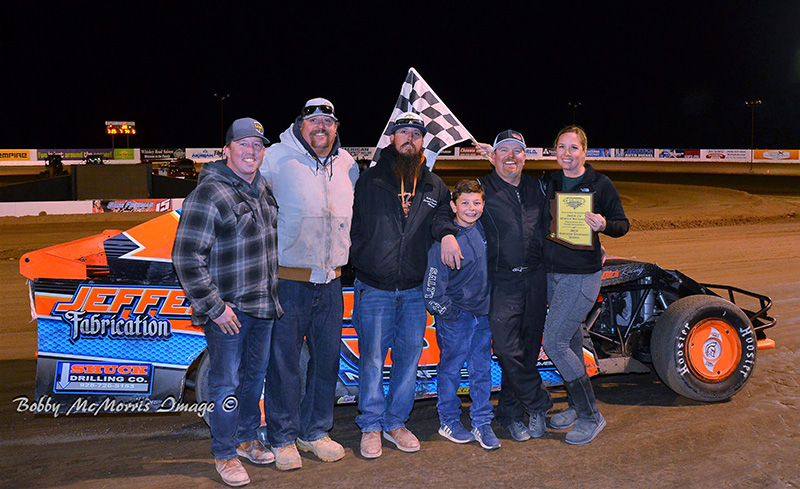 Repeat winners were seen in the IMCA Sunoco Stock Cars and IMCA Sunoco Hobby Stocks.
Canadian driver Brendon LaBatte came from seventh to claim the Stock Car victory in dramatic fashion. LaBatte was in third as he crossed under the white flag but passed Gene Henrie for second going down the backstretch before powering around Steffan Carey to win the feature in a drag race to the checkers.
Tim Gonska led the final 16 circuits of the Hobby Stock feature to win by 1.5 seconds over Scott Tenney.
Feature Results
Modifieds – 1. Jake O'Neil; 2. Ricky Thornton Jr.; 3. Kollin Hibdon; 4. R.C. Whitwell; 5. Tom Berry Jr.; 6. Alex Stanford; 7. Randy Havlik; 8. Chaz Baca; 9. Tim Ward; 10. Darrell Hughes II; 11. Marlyn Seidler; 12. Spencer Wilson; 13. Casey Arneson; 14. Austin Ku­ehl; 15. Austin Kiefer; 16. Jerry Flippo; 17. Jeff Taylor; 18. Russell Allen; 19. Travis Mos­ley; 20. Zane DeVilbiss; 21. Braxton Yeager; 22. Bill Miller; 23. Jason Noll; 24. Justen Yeager; 25. Joey Price.
Stock Cars – 1. Brendon LaBatte; 2. Steffan Carey; 3. Gene Henrie; 4. Loren DeAr­mond; 5. Troy Jerovetz; 6. Cody Center; 7. Aaron Spangler; 8. Nuggett Shupe; 9. Jody York; 10. Tony Hill; 11. Jake Smith; 12. Tyler Vache; 13. Raymond Doyle; 14. Wayne Dotson; 15. Leslie Gill; 16. Chanse Hollatz; Austin Daffern; 18. Andy Altenburg.
Hobby Stocks – 1. Tim Gonska; 2. Scott Tenney; 3. Joshua Cordova; 4. Brad King; 5. Jason Beshears; 6. Andy Pearce; 7. Oscar Duarte; 8. Jason Penny; 9. Francisco Cor­dova; 10. Jeffrey Callis; 11. Jim Robinson; 12. Jason Duggins.
Northern SportMods – 1. Miles Morris; 2. Cody Thompson; 3. Chris Toth; 4. Wayne Dot­son; 5. Ron Schreiner; 6. Jimmy Davy; 7. Taylor Kuehl; 8. Shelby Frye; 9. Manny Baldiviez; 10. Brian Carey; 11. Kyle Salo; 12. Mike Wells; 13. Bill Lundock; 14. David Pitt; 15. Jackie Frye; 16. Chase Alves; 17. Slade Pitt; 18. Camron Spangler; 19. Ty Rog­ers; 20. Javier Navarro; 21. Justin Brierley.