ARLINGTON, Minn. (Sept. 28) – His last-lap pass to regain the lead took Jeff Larson to the $5,000 IMCA Sunoco Stock Car checkers at Arlington Raceway's Scott Schoknecht Shootout.
Larson led 11 early circuits before the seventh starting Dan Mackenthun found the extra bite on the bottom and buzzed by for the front spot.
The rest of the 30-lap race went caution free with the lead pair battling back and forth as Larson had to contend with brother Dustin, who had moved up from his ninth place start.
When the white flag came out, Jeff Larson stepped on the pedal and got around Mackenthun on the backstretch to take the checkered flag and the top check. Mackenthun took second ahead of Kelly Shryock, who passed Dustin Larson on the last lap. John Oliver Jr. rounded out the top five.
Longest tow money of $300 went to Colorado's Angel Munoz. The hard charger was Jeff Lyon, who passed 13 cars. Random $500 draws went to Chad Schroeder, Kevin LaTour, lap one leader Shaun Bruns and Matt Speckman.
Shryock did double-duty, leading all 20 laps of the Saturday night IMCA Modified main to earn $1,000 and a Fast Shafts All-Star Invitational ballot berth.
Shyrock got quite a lead on Trent Loverude to sew up first place but second place was worth $1,500 and there was a battle to the end. Loverude won that with Dan Menk taking third and Clint Hatlestad fourth ahead of Ryan Bjerkeset.
Random draw winners were Bjerkeset and Dalton Magers.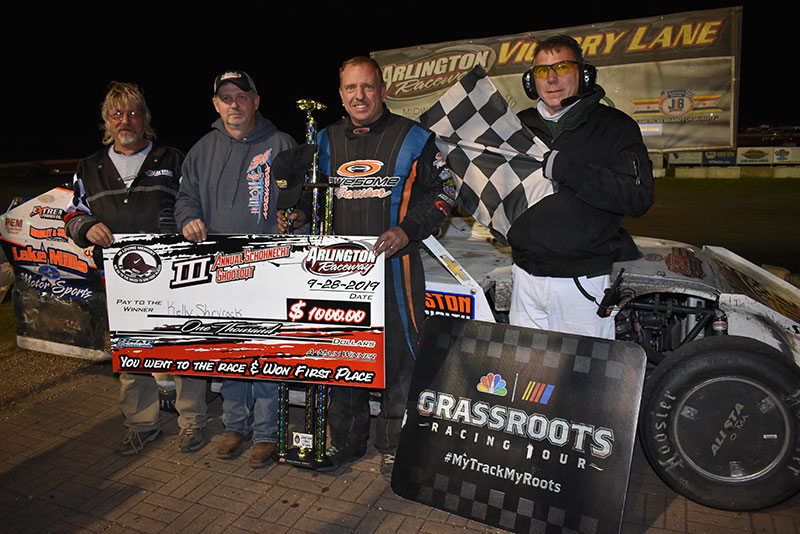 Other feature winners were Javen Ostermann in the IMCA RaceSaver Sprint Cars, Cory Probst in the IMCA Sunoco Hobby Stocks, Dan Paplow in the Karl Kustoms Northern SportMods and Alex Dostal in the Mach-1 Sport Compacts.
The winged feature doubled as a Sprint Series of Minnesota event and Ostermann owned the track, leading from start to finish.
Also the tour winner at Jackson Motorplex on Sept. 20, Ostermann made it two straight with Billy Johnson and Brandon Allen close behind.
Probst raced from seventh starting to repeat at the Schoknecht Hobby Stock winner, ahead of Dave Johnson and Brad Becker.
Paplow fended off an array of challenges before winning ahead of Jeff Carter and Tim Bergerson. Random draws went to Eric Bassett and Chris Neisen. The hard charger went to Jeremy Brown for passing 15 cars.
Dostal got a big lead late in outrunning Robert Esquida and Jerry Coopman in the 4-cylinder clash.
Feature Results
Stock Cars – 1. Jeff Larson; 2. Dan Mackenthun; 3. Kelly Shryock; 4. Dustin Larson; 5. John Oliver Jr.; 6. Taylor Willms; 7. Shaun Bruns; 8. Chad Schroeder; 9. Brent Uecker; 10. Tim Pessek; 11. Matthew Schauer; 12. Elijah Zevenbergen; 13. Zachary Foesch; 14. Jeff Lyon; 15. Angel Munoz; 16. Kevin LaTour; 17. Dan Eckblad; 18. Andrew Lokenvitz; 19. Andrew Zimmerman; 20. Joe Pommerer; 21. Ryan Grochow; 22. Dean Cornelius; 23. Charlie Rustman; 24. Paul Wenzlaff; 25. Josh Larsen; 26. Jessie Johnson; 27. Matt Speckman.
Modifieds – 1. Kelly Shryock; 2. Trent Loverude; 3. Dan Menk; 4. Clint Hatlestad; 5. Ryan Bjerkeset; 6. Cole Anderson; 7. Mark Noble; 8. Chad Porter; 9. Tyler Limoges; 10. Jeff Feaster; 11. Dalton Magers; 12. Rick Nelson; 13. Jerry Wren; 14. Joe Roberts; 15. Aaron McVenes; 16. Josh Larsen; 17. Matt Olson; 18. Nick Steinhaus.
Sprint Cars – 1. Javen Ostermann; 2. Billy Johnson; 3. Brandon Allen; 4. Brett Allen; 5. Michael Stien; 6. Brett Geldner; 7. Jeremy Schultz; 8. Bruce Allen; 9. Jesse Cripe; 10. Zach Glaser; 11. Paul Konakowitz; 12. Nolan Herd.
Hobby Stocks – 1. Cory Probst; 2. Dave Johnson; 3. Brad Becker; 4. John Rebstock; 5. Luke Trebelhorn; 6. Tim Gonska; 7. Nate Manderfield; 8. Jed Trebelhorn; 9. Scott Koep; 10. Clayton Lommen; 11. Ben Reierson; 12. Alyssa White; 13. Chase Peterson; 14. Joe Regner; 15. Sarah Moriarty; 16. Ashelyn Moriarty; 17. Edward Dostal; 18. Jordan Robinson; 19. Riley Gruenhagen; 20. Colton Burke; 21. Tyler Boyda; 22. Patrick Oestreich; 23. Nathan Gegner; 24. Brandon Bombardo.
Northern SportMods – 1. Dan Paplow; 2. Jeff Carter; 3. Tim Bergerson; 4. Eric Larson; 5. Chris Plamann; 6. Eric Bassett; 7. Jeremy Brown; 8. Jeff Lloyd; 9. Tom Malchow Jr.; 10. Jason Schroeder; 11. John Albrecht; 12. Zach Schultz; 13. J.J. Reimer; 14. Tiffany Maus; 15. John Young; 16. Dean Cornelius; 17. Jim Horejsi; 18. Chris Neisen; 19. David Siercks; 20. Kenneth Dallman Jr.; 21. Mike Steensma; 22. Anthony Dallman; 23. Mike Kennedy.
Sport Compacts – 1. Alex Dostal; 2. Roberto Esqueda; 3. Jerry Coopman; 4. Alan Lahr; 5. Dan Kastner; 6. Justin Dose; 7. Gavin Maass; 8. Scott Porter; 9. Dylan Braunworth; 10. Tim Senne; 11. Broc Braunworth; 12. Moriah Callahan; 13. Levi Selly; 14. David Marshall; 15. Emily Senne; 16. Corey Black; 17. Reilly McCabe.