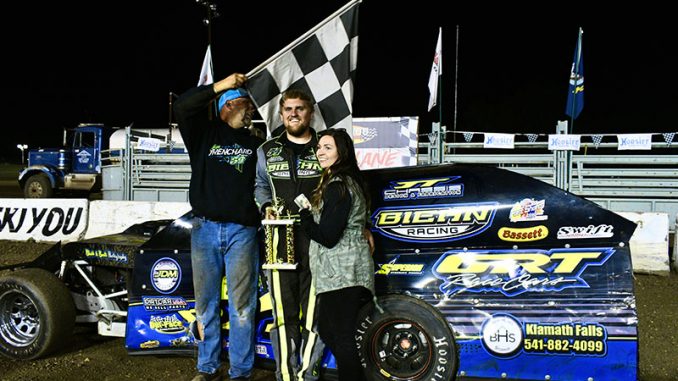 YREKA, Calif. (Sept. 21) – Nick Trenchard added another Rod Restad Memorial trophy to his collection Saturday night.
And by a margin of just eight thousandth's of a second, Todd Cooper started a collection of his own of hardware from the September special at Siskiyou Golden Speedway.
Trenchard started second and led the last 39 of 40 laps in winning the IMCA Modified special at Yreka for the third time in his career. The checkers were good for $2,000 and a Fast Shafts All-Star Invitational ballot berth.
Two long green flag runs preceded Travis Peery's late bid to catch the leader but Trenchard held on to win ahead of Peery and Ryan McDaniel.
He'd also won the Wild West Modified Shootout feature at Siskiyou in June.
"I've raced a Modified there for about 10 years. I grew up racing at Siskiyou,' said Trenchard, the 2015 and 2017 track champion at Yreka. "I've got a lot of laps in there. It's a track that suits my driving style and this has always been a special race for me."
Cooper headed home to California with equally appreciative sentiments after beating 12th starting Jorddon Braaten to the stripe by all of .008 of a second in the $1,000 to win Karl Kustoms North­ern SportMod headliner.
Multiple cautions slowed the 30-lapper in the early going but the race ran uninterrupted the last half. Matt Sanders was also a contender in a three-car race.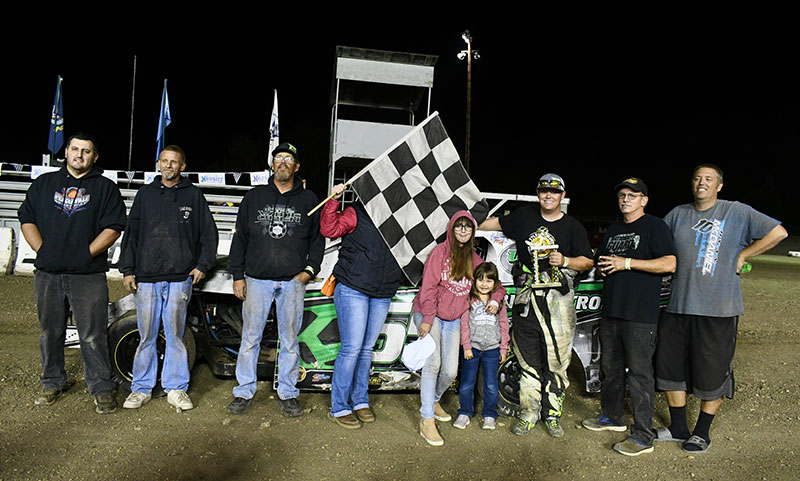 "I didn't know who won," Cooper admitted after the checkers flew. "I came around and the flag­man pointed at me and started clapping."
"Give credit to Jorddon," Cooper added. "He's a great racer."
The win was Cooper's seventh this season in the David Pierce-owned ride. Five of those W's have come at home track Marysville Raceway.
Feature Results
Modifieds – 1. Nick Trenchard; 2. Travis Peery; 3. Ryan McDaniel; 4. Jeffrey Hudson; 5. Albert Gill; 6. Jimmy Lipke; 7. Dave Duste; 8. Duane Orsburn; 9. Ray Kniffen; 10. Steve Borror; 11. James Anderson; 12. Zach Fettinger; 13. Jeff Faulkner
Northern SportMods – 1. Todd Cooper; 2. Jorddon Braaten; 3. Matt Sanders; 4. Brandon Wil­son; 5. Isaac Sanders; 6. Colt Boswell; 7. Ethan Killingsworth; 8. Merissa Henson; 9. Steven McFall; 10. Brandt Phillipe; 11. Randy Wright; 12. Mitch Henson; 13. Kyle Pitkin; 14. Chad Worming­ton; 15. Rich McCoy; 16. Wyatt Westfall; 17. Ryder Boswell; 18. Austin Petray; 19. Bri­anna Fuller.