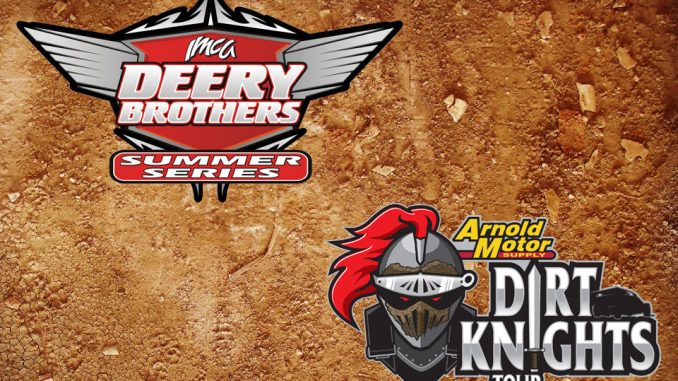 WEST BURLINGTON, Iowa – A milestone 33 years in the making will be celebrated Saturday night at 34 Raceway.
The 500th event in Deery Brothers Summer Series history will be held Sept. 21 at West Burlington. Touring IMCA Late Models have made 50 previous visits to 34 Raceway, including the first-ever series race on April 11, 1987.
34 Raceway also hosted the 300th Deery event, on Sept. 15-16 of 2006, and the 400th series event, on Sept. 2, 2012.
"It is hard to articulate what it means to have run 500 Deery Brothers Summer Series events spanning four different decades," said Tour Director Kevin Yoder. "It is appropriate that 34 Raceway will host it, as some of the more significant milestones in series history have taken place in West Burlington. It promises to be a special night."
A top prize of $2,000 is at stake Saturday. Eight different drivers have won the nine events held so far this season; Andy Eckrich of Oxford remains the point leader while Darrel DeFrance of Marshalltown brings his perfect attendance streak of 499 consecutive events to town.
The winner of Saturday's Arnold Motor Supply Dirt Knights Tour feature for IMCA Modifieds, the first AMS event held at West Burlington, earns $1,541 along with a Fast Shafts All-Star Invitational ballot berth.
The rescheduled Gangbusters 41 special, held in honor of the late Jim Oliver Sr., grandfather of IMCA driver John Oliver Jr., shares the Saturday card with the Deery Series and AMS Dirt Knights.
Five thousand dollars has been added to purses for IMCA Sunoco Stock Cars and Karl Kustoms Northern SportMods. Those features pay $1,441 and $1,041 to win, respectively.
Completing the program are Mach-1 Sport Compacts.
Pit gates open at 4 p.m. and the grandstand opens at 5 p.m. Hot laps are at 6:30 p.m. with racing to follow.
Spectator admission is $20 for adults, $18 for seniors, military and students, and free for kids 10 and under. Pit passes are $35.
More information is available by calling 319 752-3434 and at the 34raceway.com website. The Saturday race program will be broadcast by IMCA.TV.
Deery Brothers Summer Series top 20 point standings – 1. Andy Eckrich, Oxford, 412; 2. Joel Callahan, Dubuque, 395; 3. Matt Ryan, Davenport, 386; 4. Curt Martin, Independence, 372; 5. Jeremiah Hurst, Dubuque, 368; 6. Joe Zrostlik, Long Grove, 357; 7. Darrel DeFrance, Marshalltown, 345; 8. Justin Kay, Wheatland, 314; 9. Dalton Simonsen, Fairfax, 301; 10. Andy Nezworski, Buffalo, 298; 11. Jeff Aikey, Cedar Falls, and Gary Webb, Blue Grass, both 267; 13. Brian Harris, Davenport, 243; 14. John Emerson, Waterloo, 227; 15. Chad Holladay, Muscatine, 203; 16. Tommy Elston, Keokuk, 196; 17. Tyler Bruening, Decorah, 187; 18. Terry Neal, Ely, and Eric Pollard, Peosta, both 163; 20. Nick Marolf, Moscow, 159.
Arnold Motor Supply Dirt Knights Tour top 20 point standings – 1. Richie Gustin, Gilman, 276; 2. Joel Rust, Grundy Center, 242; 3. Kelly Shryock, Fertile, 226; 4. Kyle Brown, Madrid, 207; 5. Kollin Hibdon, Pahrump, Nev., 204; 6. Cody Laney, Torrance, Calif., 203; 7. Corey Dripps, Reinbeck, 182; 8. Brock Bauman, Eureka, Ill., 167; 9. Al Hejna, Clear Lake, 141; 10. Chris Abelson, Sioux City, 126; 11. Tim Ward, Harcourt, 125; 12. Ethan Dotson, Bakersfield, Calif., 122; 13. Cody Bauman, Eureka, Ill., 113; 14. Ricky Thornton Jr., Adel, 107; 15. Ryan Ruter, Clear Lake, 93; 16. Todd Shute, Norwalk, 92; 17. Travis Hatcher, Honey Creek, 88; 18. Jordan Grabouski, Beatrice, Neb., 78; 19. Jeremy Mills, Britt, 77; 20. Josh Most, Red Oak, 73.