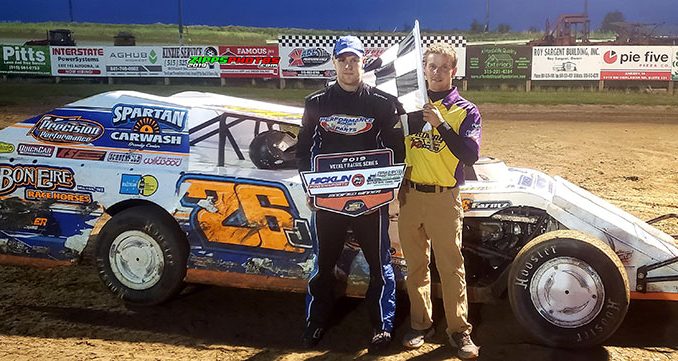 By Josh Reynolds 
STUART, Iowa (Aug. 25) –Sunday Night Spectacular winners at Stuart Speedway were Mitchell Bunch, Zach Hemmingsen, Brayton Carter, Buck Schafroth and Joel Rust, and these five will be part of a documen­tary next season for IMCA.TV.
Tony Hilgenberg and Garett Wilson on the front row for the start of he IMCA Modified feature. Wilson led the first two laps until Rust powered to the lead. Cody Laney and Josh Gilman passed Wilson on lap five and the only caution of the race came one lap later to give the field a fighting chance at Rust, who's been on a tear in central Iowa as of late.
When the green flag flew it was nothing but Rust as he dominated the rest of the way to take the win. Laney finished second with Kelly Shryock third.
Andrew Burg and Chad LeGere led the IMCA Sunoco Stock Cars to the green flag next with LeGere and then Burg leading the first two laps. Marcus Fagan took over on lap three after a caution and led until Schafroth sailed by on the bottom side on lap nine.
Schafroth led through two more yellows and went on to take the win. Brandon Pruitt recovered from a lap two flat tire to finish second with Fagan third.
Michael Murphy and Hemmingsen brought the IMCA Sunoco Hobby Stocks out next with Murphy leading Brandon Cox on lap one. Cox followed for two more circuits until taking over the lead on lap four with Chuck Madden Jr. right on his rear bumper.
Hemmingsen had fallen to fourth but took second from Madden as the bottom side of the track began to take shape on lap eight. Hemmingsen worked Cox over until getting the advantage on lap 11 and drove to the win, his first at the track. Madden finished second with John Watson third.
Karl Kustoms Northern SportMods came out next with Chris Burke and Daniel Baudler on the front row. Carter launched from his fourth starting spot to take the lead over Baudler and Burke early on. Burke fell back quickly with a bad push as Baudler and David Johnson gave chase, but it was all Carter on this night as he went on to take the flag to flag win.
Johnson finished second with Baudler third.
Curtis Masterson jumped out to the early lead for the Mach-1 Sport Compacts with Bunch and Tyler Fiebel­korn giving chase. Bunch made the pass on lap five with Fiebelkorn taking over second three laps later.
Bunch went on to the easy win with Logan Richards finishing second and Nathan Castellano in third.