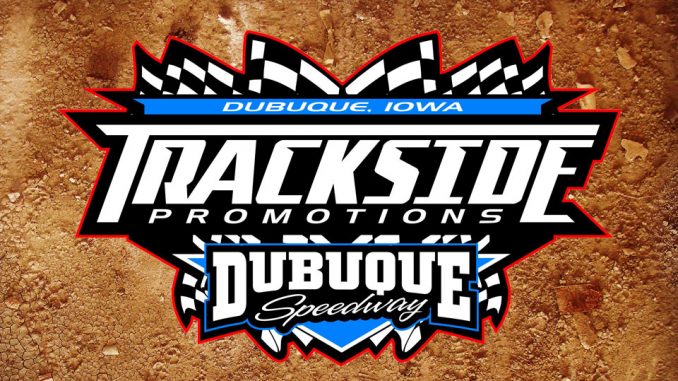 By Rob Hinckley 
DUBUQUE, Iowa (Aug. 25) – He tossed another helmet tearoff as the white flag flew.
Matt Gansen's car made it that final lap as he won the 20-lap Merfeld Brothers Automotive IMCA Modified Season Championship feature Sunday evening at Dubuque Speedway.
"The car started to overheat and steam was hitting my faceshield," a jubilant Gansen said. "I was using a tearoff every lap. I didn't know what was going on on the track."
Gansen moved by early leader Jaden Fryer after several side by side laps on lap nine and extended the advantage.
"It looked like (Fryer) was staying on the bottom and we were fast enough up top," Gansen added. "I wasn't sure if he would figure something else out so wanted to make the move."
Tyler Madigan also passed Fryer late. Track champion Bryce Garnhart and Timmy Current rounded out the top five.
"It takes consistency and wins," Garnhart said. "We put a lot of time in at the shop and I can't thank my crew and sponsors enough."
Tyler Soppe took the 15-lap Peosta Warehousing Logistics IMCA SportMod finale and the track title as well. Early leader Jake Murphy, Jerry Miles, Matt Stagman and Travis Fecht followed.
Cole Mather topped the K Motorsports IMCA Stock Car 10-lap season championship topping his title season. Reece Norton and Kyle Merkes came next.
Kaden Reynolds visited and edged Shane Oberbreckling at the finish line to take the Kinsella Concrete IMCA Hobby Stock 12-lapper. That finished off a great battle that included track champion Daniel Wauters. Brandon White and Bobby Taggart followed.