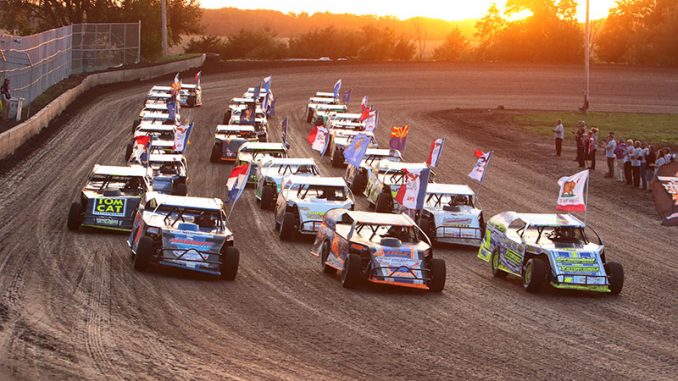 BOONE, Iowa – Nine IMCA Modified drivers make career-first starts while three former race win­ners look for new success in the 16th annual Fast Shafts All-Star Invitational.
The twenty-eight drivers elected on Super Tuesday to start the Sept. 6 Invitational, during the IMCA Speedway Motors Super Nationals fueled by Casey's, includes first timers Collen Wine­barger of Corbett – also the first driver from Oregon elected to an All-Star race – Braxton Yeager of Green River, Wy., Jeffrey Abbey of Comanche, Texas, Larry Adams of Van Alstyne, Texas, Jeff Aikey of Cedar Falls, Tom Berry Jr. of Newburg, N.D., Tanner Black of Otis, Kan., Brad Smith of Columbia Cross Roads, Pa. and Collin Thirlby of Traverse City, Mich.
Second-time All-Stars are Cayden Carter of Oskaloosa, Clay Money of Penokee, Kan., and Joel Rust of Grundy Center.
Drew Armstrong of Benton, Ark., Steven Bowers Jr. of Topeka, Kan, and Malvern's Jesse Sob­bing each were elected for the third time while Kyle Brown of Madrid and Zane DeVilbiss of Farming­ton, N.M., both were elected for the fourth.
Defending race winner Hunter Marriott of Brookfield, Mo., Ricky Alvarado of Delta, Colo., Kelly Shryock of Fertile and Jason Wolla of Ray, N.D., will all start their fifth All-Star races.
Elected to career sixth All-Star starts were Richie Gustin of Gilman, top vote getter Ricky Thornton Jr. of Adel and A.J. Ward of Ionia, Mich.
2015 and 2016 race winner Jimmy Gustin of Marshalltown and William Gould of Calera, Okla., each make their seventh All-Star starts while Tim Ward of Harcourt and 2011 winner Chris Abel­son of Sioux City were both elected for the ninth time.
A total of 145,340 votes were cast. The 28 drivers elected, in balloting conducted through the IMCA Facebook page, represent 13 states.
Completing the starting field of 30 for the $1,000 to win, minimum $200 to start feature will be drivers with the top national point to­tal and the most 40-point feature wins as of Aug. 29 compet­ing at Super Nationals.
One hundred and forty-two drivers from 26 states and two Canadian provinces have now been All-Stars.