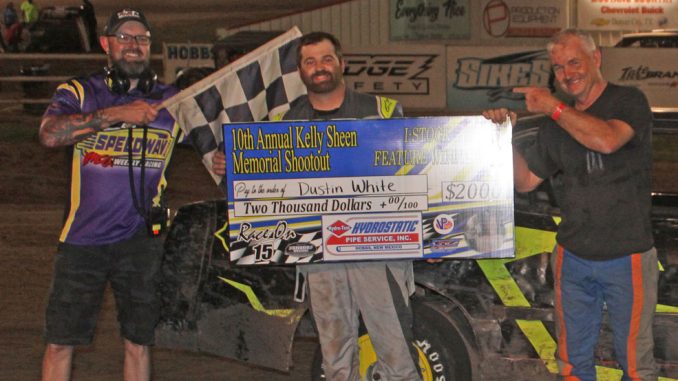 EUNICE, N.M. (July 6) – What a difference from a year ago.
Dustin White didn't complete a lap at the 2018 Kelly Sheen Memorial Shootout, pulling off with fuel issues before even seeing the green flag.
Now fast forward to Saturday night when he took home the biggest share of the green after win­ning Cardinal Speedway's 10th annual event.
What became $2,100 checkers with late additions to the purse flew ahead of Justin Graves and hard-charging Michael Sheen, the three-time and defending race winner, who'd taken the $1,000 challenge to start in back after running second in the Friday qualifier.
"Winning this race is huge for me," said White, from Lamesa, Texas. "I come from the same town as Kelly and have become good friends with (his son) Michael the last couple years. He's helped me out a lot."
White started sixth and was running second to his father and former race winner Cary when the competition caution came out halfway through the 40-lapper.
"I knew right where I was going (after the restart)," said White, who ran a higher line and side-by-side with his father for a couple laps before taking over in front.
Lapped traffic didn't figure in the outcome but White kept an eye on the leader board and knew Michael Sheen was on the move.
"I just tried to hold my line," White said following the late yellow. "I never saw anyone's nose and was able to get it done."
The win was just the second of the season for White, who ended a string of four straight DNFs with the victory. Twelfth in the Friday night qualifier, he raced his way onto the starting grid by winning his Saturday heat from sixth starting.
Cary White ended the main event in fourth and 14th starting Colby Deming completed the top five.
Other feature winners were Neal Flowers, who earned $1,300 and a Fast Shafts All-Star Invita­tional ballot berth for his career 100th IMCA Modified victory; Trevor Egbert in the Smiley's Racing Products Southern SportMods; and Jimmy Breeding III in the IMCA Sunoco Hobby Stocks.
Flowers led much the Modified main before making contact with a slower car late in the contest. He'd regain the lead from Cory Davis, however, to take the much-anticipated milestone checkers.
Making his first-ever visit to Cardinal, Egbert started on the pole and led every circuit in a 20-lap­per interrupted just once by caution.
"This is really a cool little track," said Egbert, who won handily ahead of Junior Dosher. "It was very racy and fun to race on for sure."
The third-starting breeding battled Cody Stone early before leading the last 16 laps in the Hobby Stock main.
"Lapped traffic was a big part of it, who could get around it the fastest," said Breeding, another driver who saw his 2018 Sheen results do a 180.
The win was his fifth this season at Cardinal. Breeding had seen a string of four straight victories ended by a third-place run in his previous Eunice outing.
Feature Results
Stock Cars – 1. Dustin White; 2. Justin Graves; 3. Michael Sheen; 4. Cary White; 5. Colby Dem­ing; 6. Jack Miles; 7. Rob Moseley; 8. Jody York; 9. J.D. Davis; 10. Carbie McClearen; 11. Lee Yeley; 12. Kaiden Black; 13. Mack Sealy; 14. Jason Josselyn; 15. Mark Lord; 16. Cory Davis; 17. Jake White; 18. Larry Bradley; 19. Gabe Guerra; 20. George Egbert.
Modifieds – 1. Neal Flowers; 2. Cory Davis; 3. Toby Herring; 4. Caleb Stone; 5. Dean Deming; 6. Colin Deming; 7. Bob Sikes; 8. Will Poston; 9. Roy Don Mason; 10. Zac Mason; 11. Danton Odell; 12. Jamie Newton; 13. Mark Patterson; 14. Michael Maraschick; 15. David Hudec; 16. Tim Ridge­way; 17. Danny Patterson; 18. Shane Priddy; 19. Vince Ogle; 20. Ronnie Johnson.
Southern SportMods – 1. Trevor Egbert; 2. Junior Dosher; 3. Tyler Cook; 4. Justin Thomas; 5. Roger Pierce; 6. Heath Herrington; 7. Terry Owen; 8. Bailey Cooper; 9. William Beckham; 10. Jim Pierce; 11. Tim Welch; 12. Chris Stewart; 13. Brian Ray Flowers; 14. Aaron Childress; 15. Brian Heard.
Hobby Stocks – 1. Jimmy Breeding III; 2. Cody Stone; 3. John Davis; 4. Cory Stone; 5. Ashton Hayes; 6. Gerald Spalding Jr.; 7. Wesley Mayer; 8. Matthew Machen; 9. Shawn Stone; 10. David Males; 11. Kevin Griffin; 12. Mark Turner; 13. Don Jones; 14. Marc Kimbrell; 15. Eddie Johnson; 16. Triston Johnson.