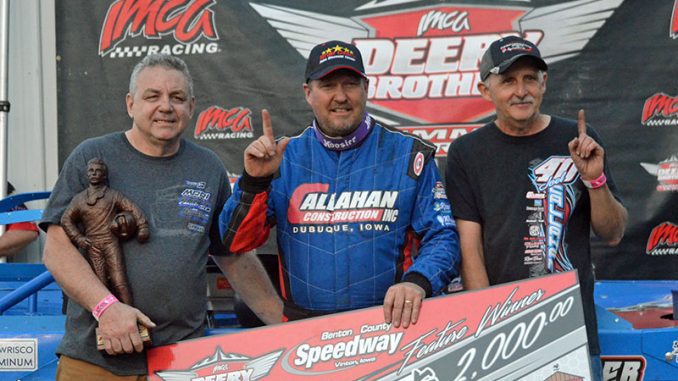 VINTON, Iowa (June 27) – Lapped cars didn't bother Joel Callahan.
He figured if he had to get past them, so did everybody chasing him for the lead in Thursday's Deery Brothers Summer Series main event at Benton County Speedway.
Callahan made the most of four restarts before midway of the 40-lap IMCA Late Model tour feature after starting ninth, reeling in Jeff Aikey and leading the last 16 circuits for the $2,000 victory, his Deery career sixth and first since July 7 of 2016.
"It's always good to win. We had a good car and the cautions helped. It seemed like every caution I was able to gain a couple spots," Callahan said following the county fair show victory.
Aikey, winner of the previous tour race at Maquoketa Speedway, had started from the pole and set a blistering pace in the early going.
Cautions erased his big leads, however, and Callahan was already sitting in second when the fourth of those yellow flags waved on lap 18.
Both had to work their way around a lapped car before Callahan edged ahead as lap 25 was scored.
They'd negotiate their way in the back of the field in the final laps before Callahan pulled away to win by close to half a straightaway.
"Any time you get into lapped traffic, the other guys have to get into it, too," reasoned Callahan, also winner of the $250 Sunoco Race Fuels feature qualifier drawing. "It was a good night. We were happy with everything. We're always happy to be able to compete and we're always happy to win."
John Emerson, Eric Pollard and Jeremiah Hurst rounded out the top five. Pollard's fourth-place finish was his best in just half a dozen career main event starts; hard charger Tyler Bruening started 15th and ended in sixth.
Next on the Deery Series schedule is the $2,000 to win Wednesday, July 17 event at CJ Speedway in Columbus Junction.
Other IMCA winners Thursday at Vinton were Damon Murty in the IMCA Sunoco Stock Cars, Brett Vanous in the IMCA Sunoco Hobby Stocks and Ben Chapman in the Karl Kustoms Northern SportMods.
Feature Results
Deery Brothers Summer Series – 1. Joel Callahan, Dubuque; 2. Jeff Aikey, Cedar Falls; 3. John Emerson, Waterloo; 4. Eric Pollard, Peosta; 5. Jeremiah Hurst, Dubuque; 6. Tyler Bruening, Decorah; 7. Matt Ryan, Davenport; 8. Justin Kay, Wheatland; 9. Todd Malmstrom, Silvis, Ill.; 10. Andy Eckrich, Oxford; 11. Curt Martin, Independence; 12. Darrel DeFrance, Marshalltown; 13. Chad Holladay, Muscatine; 14. Luke Pestka, Robins; 15. Darren Ackerman, Elk Run Heights; 16. Charlie McKenna, Ames; 17. Gary Webb, Blue Grass; 18. Paul Nagle, Nevada; 19. Dalton Simonsen, Fairfax; 20. Stacy Griffis, Solon; 21. Logan Duffy, Independence; 22. Joe Zrostlik, Long Grove; 23. Nick Marolf, Moscow; 24. Andy Nezworski, Buffalo; 25. Brian Harris, Davenport; 26. David Webster, Monroe, Wis.; 27. Kyle Krampe, Baxter.
Stock Cars – 1. Damon Murty; 2. Jay Schmidt; 3. Dan Trimble; 4. Norman Chesmore; 5. Scooter Dulin; 6. Dallon Murty; 7. Duayne Herb; 8. Hannah Chesmore; 9. Neal Miller; 10. Scott Rice; 11. Kevin Rose; 12. Russell Damme Jr.; 13. Kenzie Ritter; 14. Tyler Travis; 15. John Oliver Jr.; 16. Les Blakley; 17. Mitchell Evens; 18. Shane Ebaugh.
Hobby Stocks – 1. Brett Vanous; 2. Kaden Reynolds; 3. Justin Wacha; 4. Matt Brown; 5. Mike Kimm; 6. Jacob Floyd; 7. Daniel Wauters; 8. Erick Knutsen; 9. Leah Wroten; 10. Jake Benischek; 11. Kyle Dulin; 12. Jeremiah Andrews; 13. Max Leonard; 14. Justin Tharp; 15. Scott Sondag; 16. Ed O'Brien; 17. Dan Brady.
Northern SportMods – 1. Ben Chapman; 2. Tony Olson; 3. Tyler Soppe; 4. Joe Docekal; 5. Kyle Bentley; 6. Danny Dvorak; 7. Kyle Olson; 8. Austin Heacock; 9. Jerry Miles; 10. Cody Thompson; 11. Brian Sondag; 12. Aaron Burkey; 13. Will Forester; 14. Jason Pansegrau; 15. Adam Birck; 16. Dale Kite; 17. Robert Patava; 18. Erick Knutsen; 19. Brandon Tharp.