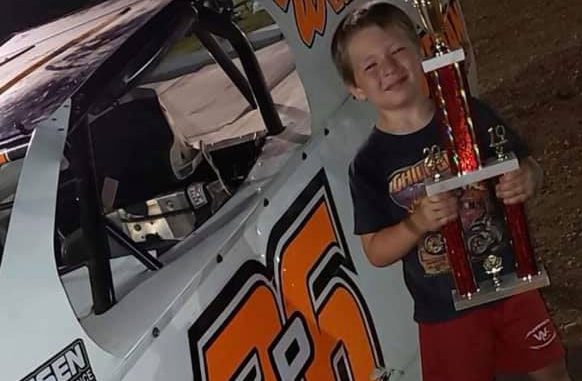 By Ronnie Williams
SPRINGFIELD, Mo. (June 22) – Oronogo's Bobby Pearish grabbed the early lead and held back current point leader James Thompson in recording his first-ever Bad Boy Mowers IMCA Modified feature win Saturday at The "Quick-Quarter" of the Springfield Raceway.
Pearish, who started third, wasted no time in moving to the extreme top groove on the racy surface and began to put some distance on the field.
Taking full advantage on a restart as Shawn Duncan spun, Pearish went rim-riding while the race for second really heated up between Thompson and Jody Tillman. The top two in the track standings were door-to-door and began to gain on Pearish.
Thompson took over the runner-up spot and with eight laps remaining was closing ground. Pearish, who later said the car was working strong, felt it slip a couple of laps and then realized he was pushing too hard.
He got back into a smooth rhythm in becoming the eighth different winner in IMCA Modified action this season. Thompson proved the old saying going from a zero to a hero as last week he suffered damage in the first feature of the doubleheader event and was not able to start feature number two.
"It's been a while since I visited victory lane and the car has been fast. We changed motors this last week and the car reacted differently, allowing me to not muscle it this week," said Pearish, who made it a clean sweep by capturing his qualifying heat as well.
Only three-time winner Andrew Armstrong of Benton, Ark., has multiple wins.
Other feature winners so far this season at Springfield have been Andrew Smith, Thompson, Tillman, Ken Schrader, Brent Hartwick and Clay NorrisBad.
Boy Mower IMCA Modified action continues this Saturday night with race time at 6:30 p.m.