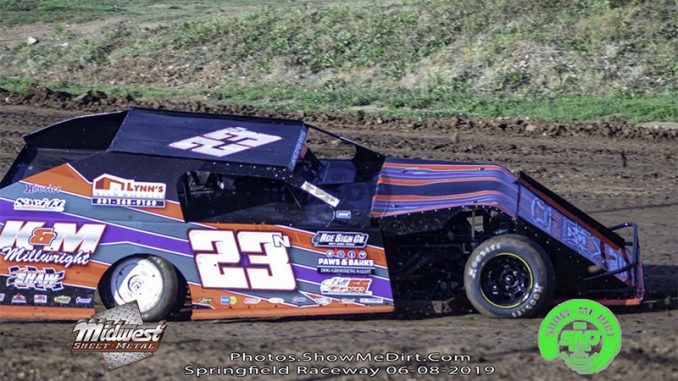 By Ronnie Williams
SPRINGFIELD, Mo. (June 8) – Searcy, Ark., resident and current Batesville Motor Speedway IMCA Modified point leader Clay Norris made his first-ever visit to The "Quick-Quarter" of the Spring­field Raceway Saturday night.
The trip paid off as Norris pulled off a last-lap, last-turn pass from race and Bad Boy Mower IMCA Mod­ified point leader James Thompson to become the fifth different feature winner out of seven features on Indigo Casino Raining Money Night at the races before the packed grandstands.
An early restart found Thompson and points runner-up Jody Tillman bringing the pack to the green. Derek Watson was quick to join the top duo as Norris was searching to see where his car was working best.
Thompson found the top groove to his liking as he started to pull away from Tillman and Watson while Norris was waiting in the shadows as the feature went caution-free the rest of the distance.
Norris decided on lap 15 it was time to go as the Arkansas hard charger made quick work of both Watson and Tillman and closed the ground on the leader. Thompson stayed on the extreme top side as Norris worked the middle groove and as the white flag flew, Norris was only a car length behind.
Going into turn three, Thompson made a small bobble and Norris made the most of it as he pulled even with Thompson in turn four as both drivers gave each other plenty of room.
Norris found something extra to lunge ahead of Thompson and cross the line by less than two car lengths to capture the win with Thompson, Tillman, Watson and Mark Norris in the mix for a top five in his first ever visit to the high-banked oval as the track produced outstanding side by side action all night long.