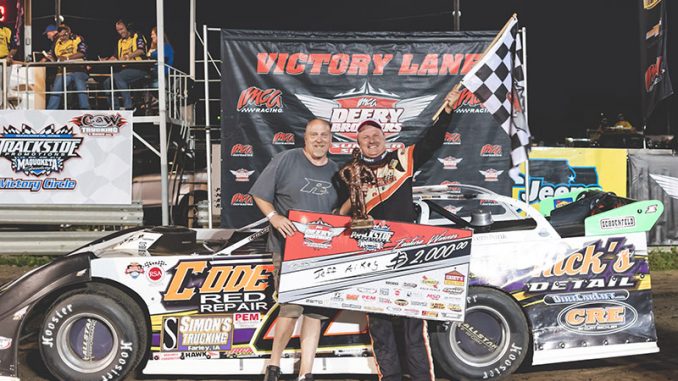 By Rob Hinckley
MAQUOKETA, Iowa (June 18) – As Jeff Aikey drove the four-wide parade lap, he knew his car would be competitive.
The 56-year old veteran put his fairly new ride to the test early in Tuesday evening's 50-lap Deery Brothers Summer Series feature at Maquoketa Speedway. It passed the test with flying colors as he flew to the $2,000 IMCA Late Model tour victory.
"I could go anywhere on this track," the all-time Deery Brothers feature win leader said in victory circle after his 69th career win. "The track was prepared great."
Aikey rolled off third and had the point by lap four, passing pole starter Andy Eckrich. He drew away from a charging Joel Callahan for several laps after Callahan took second on lap 10.
Callahan finally caught and then led for a couple laps before Aikey regained control on the 45th circuit.
"I can't believe we won this thing," Aikey added. "Rick Dralle gave me a perfect car. I hadn't been in a Deery Brothers race for three years, so this really feels good."
The only caution flew on lap 46. Aikey then beat Callahan, Matt Ryan, Terry Neal and Darrell De­France.
Three-time and defending series champion Justin Kay earned hard charger honors, racing from 23rd starting to sixth.
"We were having a good run and it was tiring with no cautions," said Aikey. "When Joel showed his nose, I knew I had to go."
Aikey won for the fifth time in six races behind the wheel of Dralle's Rick's Detail/Code Red Re­pair Rocket. The winner of the first two Deery events held at Maquoketa, in 1998 and 2002, Ai­key's most recent series victory had come on Sept. 8 of 2016 at the IMCA Speedway Motors Su­per Nationals fueled by Casey's.
Terry Neal was the $250 Sunoco Race Fuels feature qualifier drawing winner.
The event had been rescheduled from an April rainout.
Feature results – 1. Jeff Aikey; 2. Joel Callahan; 3. Matt Ryan; 4. Terry Neal; 5. Darrell De­France; 6. Justin Kay; 7. Jeremiah Hurst; 8. Curt Martin; 9. Andy Eckrich; 10. John Emerson; 11. Andy Nezworski; 12. Chad Holladay; 13. Sam Halstead; 14. Doug Nigh; 15. Chuck Hanna; 16. Eric Pollard; 17. Paul Nagle; 18. Brian Harris; 19. Dalton Simonsen; 20. Jeff Tharp; 21. Joe Zrost­lik; 22. Todd Malmstrom; 23. Gary Webb; 24. Don Pataska.