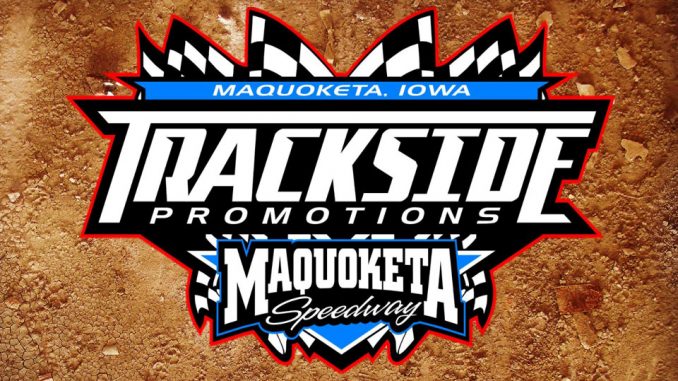 By Rob Hinckley
MAQUOKETA, Iowa (July 6) – The brakes were applied in the turn, rear part of the car kicked slightly to the right and then Kory Meyer was back on the gas.
The Olin ace did that to perfection Saturday evening at Maquoketa Speedway during Kids Night, racing to a good advantage and hanging on in lapped traffic to win the 20-lap QCJeeps.com IMCA Modified feature.
"I was hoping they weren't going to be able to get around me," Meyer said. "I was sticking to the bottom and letting the race run out."
Meyer took Doug Haack's green flag from the pole and led every circuit despite the 3/8-mile, dirt oval blackened surface not the ideal track for his car.
"It slows everything down a bit and we've struggled with our car on that. It's been better when there's traction, but we got it figured out tonight."
Nathan Hall was looking for his second win in two nights and held the runner up spot most of the race. Justin Kay weaved through traffic and dispensed of Hall late in the going. Both were closing on Meyer near the end when lapped cars became prevalent.
Kelly Pestka was just as dominant in the Andover Meat IMCA Late Model 25-lap finale. He paced every lap en route to a several car length win over Doug Nigh and Joe Ross.
Tyler Soppe and Gage Neal have an epic track points battle going in the B&D Pit Stop IMCA SportMods. Both held the top spot in the 15-lap feature. Soppe swung to the high side and then around Neal about halfway through and held on for his third straight checkered flag.
Greg Gill took his second Ueland Auto IMCA Stock Car victory of the season, beating Kay, who was doing double duty in the No. 2 car usually driven by Timmy Current. Jimmy Comins followed.
Leah Wroten is two for two at Maquoketa in 2018. She won the season opener in April and slid past a handful of IMCA Sunoco Hobby Stock regulars to win her second 12-lapper. The Independence hotshoe took advantage of her home track's night off to visit.
She beat Dakota Simonsen and Randy Byerly for her seventh win and 28th top three of the year.
A total of 100 race teams jammed the pits. Racing was completed around 9:30 p.m. just in time for the City of Maquoketa's annual fireworks display.