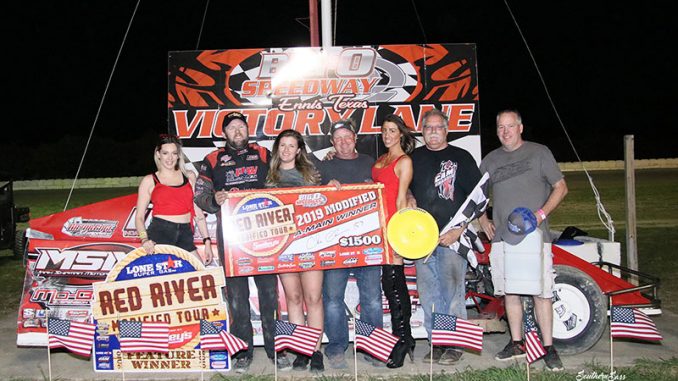 By Jackson Braun
ENNIS, Texas (May 28) – The first visit to the Big O Speedway for the Lone Star Super Gas IMCA Red River Modified Tour did not disappoint as Chase Allen, Bo Day and Jeffrey Abbey all raced to victory lane.
Tour career tour win number two for Allen, who took the opener last year in Kennedale, paid $1,500 and put him on the ballot for the Fast Shafts All-Star Invitational.
Jeff Taylor and Allen led the field to green. Allen was fast from the start, getting the jump on the initial start and never looking back. Every single restart, Allen was smoother than cream cheese on a bagel as his no. 157 machine ran away from the field.
Josh McGaha started inside row two and passed Taylor after a restart. Chris Elliott charged from the 18th starting spot to the top 10, gaining a little more real estate on every single restart as he worked the top and middle lanes of the track.
Elliott settled into the top three after a green flag run. Every time McGaha closed in on Allen, Allen pulled away. McGaha and Elliott followed at the finish.
Kaden Honeycutt utilized his pole position start to get a good jump on the field in the Smiley's Racing Products Southern SportMod feature.
A caution slowed everything down and Bo Day was able to get around Honeycutt and claim the feature victory, his second of the 2019.
The IMCA Sunoco Stock Cars have seen the Williams clan and the Abbey clan fight tooth and nail for the best of the division each and every night, and tonight was no different. Gary Williams got to the lead once again and looked primed for his third victory on the tour but then came the Abbeys.
Jeffrey Abbey has been unbelievably fast in his 2012 Voodoo Chassis as he propelled his car ahead of Williams and into victory lane. Williams followed in second, followed by Dean Abbey, Westin Abbey, and Shelby Williams.
Feature Results
Modifieds – 1. Chase Allen; 2. Josh McGaha; 3. Chris Elliott; 4. Jeffrey Abbey; 5. William Gould; 6. Drew Armstrong; 7. Cory Davis; 8. Fred Wojtek; 9. Eric Tomlinson; 10. Mark Carrell; 11. Tyler Stevens; 12. Kevin Green; 13. Brandon Hood; 14. Jeff Taylor; 15. Jerad Herring; 16. Jeff Hoegh; 17. Chris Morris; 18. John Gober; 19. Ronnie Bell; 20. Garrett Higgins; 21. Paris Archie; 22. Chris Bragg; 23. Matt Guillaume; 24. Jason Hunter; 25. Brent Tidwell.
Southern SportMods – 1. Bo Day; 2. Kaden Honeycutt; 3. Cody Smith; 4. Rowdy Day; 5. Tommy Davis; 6. Jacob Pirkle; 7. Taylor Florio; 8. Tyler Bragg; 9. Kevin Rowland; 10. Justin Nabors; 11. Trevor Egbert; 12. Jake Upchurch; 13. Kamera McDonald; 14. Craig Oakes; 15. James Hanusch; 16. Trevor Raney 17. Chris Florio; 18. Chad Fitzgerald; 19. Casey Brunson; 20. Kaine Buckmeyer; 21. Tanner Houston; 22. Thomas Blackwell; 23. Bobby Parker; 24. Michael Martin.
Stock Cars – 1. Jeffrey Abbey; 2. Gary Williams; 3. Dean Abbey; 4. Westin Abbey; 5. Shelby Williams; 6. A.J. Dancer; 7. Jason Riddle; 8. Dennis Bissonnette; 9. Dustin Mooney; 10. Brandon Hood; 11. Lee Riley; 12. Vernon Owens; 13. Charlie Brown; 14. Tyler Muirhead; 15. George Egbert; 16. Gary Kerr Jr.; 17. Caleb Crenshaw; 18. Treven Geter; 19. Drew Garcia.