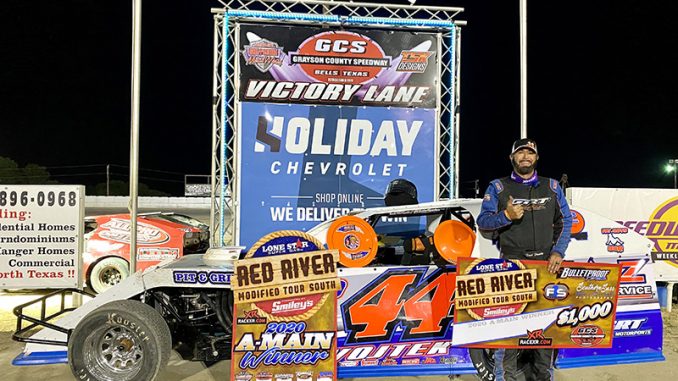 BELLS, Texas (July 2) – Fred Wojtek felt right at home Thursday night, on a track he'd only raced at once before. 
Wojtek started on the pole and led start to finish in the Red River South Tour feature for IMCA Modifieds at Grayson County Speedway. He earned $1,000 and a Fast Shafts All-Star Invitational ballot berth for the victory, which came ahead of Chris Elliott and 12th starting Cody Leonard.
"I watched a couple races before and set up the car for the bottom. I had a feeling Chris would run the top. That's where he won the tour race a couple years ago," explained Wojtek, who'd run fifth that night, in his one previous outing at Bells.
Elliott pulled alongside Wojtek on the third lap and the front pair ran side-by-side much of the way before a late restart.
"There were a lot of good drivers there. It was exciting and nerve wracking all at the same time," said Wojtek, not challenged following that final restart. "This was just the second time I raced there but it's very similar to my home track Abilene Speedway so I felt right at home."
Josh McGaha and opening night winner William Gould completed the top five.
Shelby Williams was the Smiley's Racing Products Southern SportMod winner.
Feature results – 1. Fred Wojtek; 2. Chris Elliott; 3. Cody Leonard; 4. Josh McGaha; 5. William Gould; 6. Jeff Taylor; 7. Ken Schrader; 8. Dustin Hyde; 9. Chaz Baca; 10. Matt Guillaume; 11. Dillon Tindall; 12. Justin Radcliff; 13. Chris Bragg; 14. Brint Hartwick; 15. Shannon Hartline; 16. Chad Melton; 17. Larry Adam; 18. Jimmy Reeves; 19. Garrett Gregory; 20. Chuck Sanders; 21. Ryan Doyon; 22. Chris Morris; 23. Beau Collins; 24. Michael Ables; 25. Jeffrey Abbey.