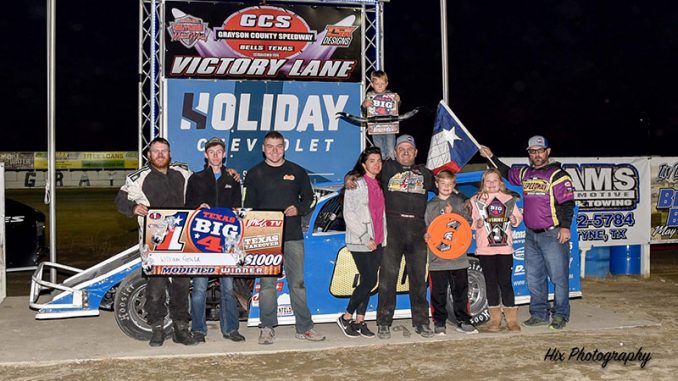 By Steven Young
BELLS, Tex. (November 2) — The Inaugural Texas Big Four at the Grayson County Speedway in Bells, Texas is in the books.
In the IMCA Modified feature, it was a renewal of a Gould Chassis Red River rivalry, as Okla­homa's William Gould and Texan Matt Guillaume faced off head-to-head early on.
Gould built a decent lead during the first handful of circuits but as the lead duo approached the back of the field, Guillaume reeled in a passed Gould for the lead lap 10.
Gould used lapped traffic to regain the lead, however, in turns one and two on lap 11, going on to steadily rebuild his advantage over Guillaume.
One final caution with 11 laps remaining cleared the track for Gould as he continued on for the $1,000 victory. He was followed home by Michael Ables in second and Guillaume third.
Razor Chassis South Central Region champion Gould, already on the Fast Shafts All-Star Invita­tional ballot, was pleased with the surface post race, saying "Honestly, this is about like what we run on every week here. I was more than frustrated earlier today, but Mike Van Genderen, Barry Braun and all the crew kept working and working, and got it back like it normally is."
Guillaume wasn't shut out on the night, however, as he won the IMCA Sunoco Stock Car feature and $1,000 earlier in the evening.
It was fairly straight forward for Guillaume, who held off Westin Abbey after a caution midway through the 25-lapper. Abbey, who took the second spot early with a power move around the top of turns three and four from Shelby Williams, remained on Guillaume's bumper for the majority of the race.
In the Smiley's Racing Products Southern SportMod feature, Gregory Muirhead was the class of the field for the majority of the 30-lap affair, but a late restart paid off for eighth starting Kasey Kuyken­dall, as he took the lead for good on lap 27. He was followed home by Muirhead and Rod­ney White.
"I got stuck on the outside on the start, and went way back. Then we had that little break with the wreck on the front stretch and I don't know how I made it through," Kuykendall said following the $1,000 checkers. "The top came in and that's where we were."
Feature Results
Modifieds – 1. William Gould; 2. Michael Ables; 3. Matt Guillaume; 4. Travis Mosley; 5. Joe Gomez; 6. Lance Hanson; 7. Mike Hathcock; 8. Rusty Belcher; 9. Chris Webb; 10. Christopher Luttmer; 11. Shane Clement; 12. Jerry Ensey; 13. Matt Deaver; 14. Casey McAllister; 15. Brint Hartwick; 16. Jason Gomez; 17. Cory Davis.
Stock Cars – 1. Matt Guillaume; 2. Westin Abbey; 3. Shelby Williams; 4. Cary White; 5. Gary Williams; 6. John Winters; 7. Bryce Pritchett; 8. William Gould; 9. Steve Ott; 10. Lewis Black­wood; 11. Dustin Mooney.
Southern SportMods – 1. Kasey Kuykendall; 2. Gregory Muirhead; 3. Rodney White; 4. Blaine Shives; 5. Chad Cox; 6. Trevor Raney; 7. Chase Vineyard; 8. Matthew Day; 9. Michael McCullough; 10. R.C. Gregg; 11. Aaron Alley; 12. Martin Poole; 13. Donnie Hix; 14. Rowdy Day; 15. Kelly Gann; 16. Justin White; 17. Shelby Williams; 18. Brandon Watson; 19. Kelly Williams; 20. Matt Goswick; 21. Jeremy Henry; 22. James Craig; 23. Josh Short; 24. Eric Franklin.