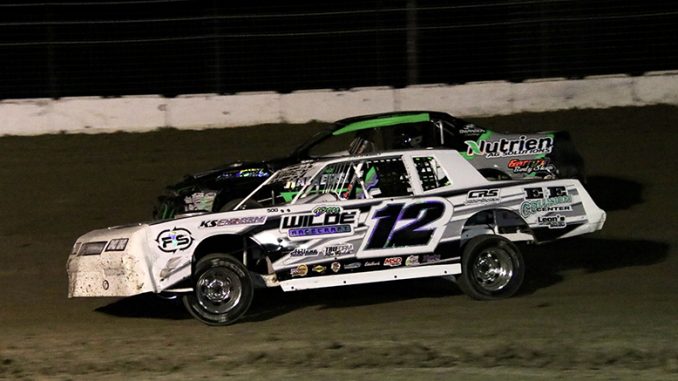 BELLS, Texas (Feb. 17) – Westin Abbey rang up a second Sniper Speed Lone Star Tour feature win Monday night, getting the best of his IMCA Sunoco Stock Car foes at Grayson County Speedway.
Abbey had started 10th in the 30-lap, star-filled field at Bells, passed brother Dean for the lead just before halfway and then worked his way through traffic as the race ended with a long green flag run.
Ryan Powers led the first six circuits from the pole before giving way to Dean Abbey, fresh off the win in the Smiley's Racing Products Southern SportMod main.
Sunday winner Derek Green was briefly into the runner-up spot following the second of two lap yellow cautions.
Westin Abbey swapped second with Powers before making his way to the front on lap 14. He mastered traffic beginning on lap 18, chased to the $1,000 checkers by the 12th starting Jesse Sobbing.
Dean Abbey, George Egbert III and 14th starting Jeffrey Abbey rounded out the top five.
Monday's third installment of the Lone Star Tour drew 70 Stock Car entries from a dozen states, with California newly represented.
Jason Wolla was the $1,000 IMCA Modified winner, putting his name on the Fast Shafts All-Star Invitational ballot with a last-lap pass of John Gober.
The 2017 national champion had chased Gober following an early caution that saw leader and Sunday winner Jon White Jr. exit. Drew Armstrong, Sobbing and Anthony Roth were scored next.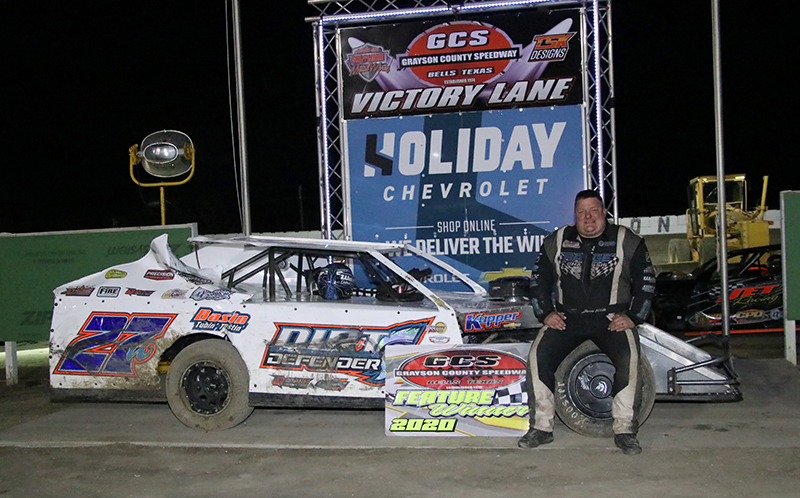 Dean Abbey used a blueprint similar to Wolla's in the Southern SportMod feature. He'd worked his way from seventh starting and got stuck in second for a long stretch before crossing the line side-by-side with Rodney White with two laps to go.
Abbey pulled ahead from that point, collecting the checkers ahead of Rodney White, Mitchell Clement, 12th starting Gregory Muirhead and 15th starting Justin White.
Feature Results
Stock Cars – 1. Westin Abbey; 2. Jesse Sobbing; 3. Dean Abbey; 4. George Egbert III; 5. Jeffrey Abbey; 6. Matthew Riskey; 7. Matt Guillaume; 8. Ryan Powers; 9. Chad Schroeder; 10. Eric Rempel; 11. Dean Cornelius; 12. Abe Huls; 13. Jason Batt; 14. Kevin Flock; 15. Kirk Martin; 16. Derek Green; 17. Dan Mackenthun; 18. Curt Lund; 19. Jason Rogers; 20. Hesston Shaw; 21. Dustin White.
Modifieds – 1. Jason Wolla; 2. John Gober; 3. Drew Armstrong; 4. Jesse Sobbing; 5. Anthony Roth; 6. Josh McGaha; 7. Clay Money; 8. Brint Hartwick; 9. Jim Thies, Mapleton; 10. Treven Geter; 11. Michael Ables; 12. Ethan Braaksma; 13. Larry Adams; 14. Jim Cole; 15. Shane DeMey; 16. William Gould; 17. Brandon Aggen; 18. Mark Adams; 19. Jon White Jr.; 20. Mike Petersilie.
Southern SportMods – 1. Dean Abbey; 2. Rodney White; 3. Mitchell Clement; 4. Gregory Muirhead; 5. Justin White; 6. Jeremy Henry; 7. Brandon Blake; 8. Justin Nabors; 9. Kevin Ward; 10. Ron Hessel; 11. Brantley Beatty; 12. Austen Becerra; 13. Christopher Stewart; 14. Mark Marr; 15. Mark Patterson; 16. Dan Day; 17. Michael McCullough; 18. Mason Day; 19. Matthew Day; 20. Brandon Tharp.