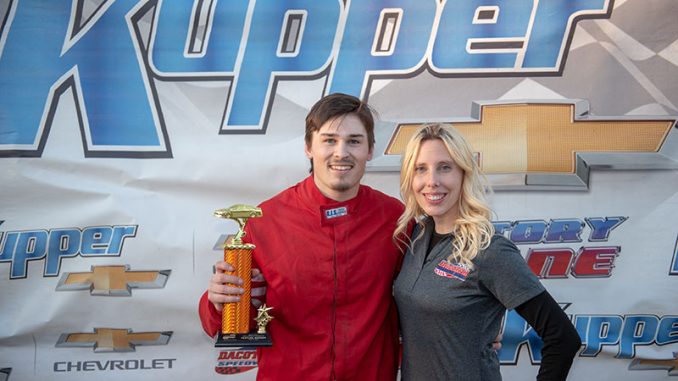 MANDAN, N.D. (May 10) – Jason Wolla went back-to-back, with another Friday night IMCA Modi­fied win at Dacotah Speedway.
Andrew Bargmann and Rusty Corneliusen started on the front row and Corneliusen led the first couple laps before Wolla muscled his way into the lead on lap three. Jeremy Keller then passed Corneliusen for second, bringing Myles Tomlinson and Tom Berry with him.
Wolla's big advantage started to shrink as Keller turned some of the fastest laps on the track and was starting to close in. A caution with 13 laps to go reset the field but once more Wolla pulled away.
With only a few laps remaining, Keller cut into Wolla's lead again and challenged for the win be­fore the yellow flag waved again.
On the final restart of the night, Wolla held off Keller to win back-to-back races at Mandan. Myles Tomlinson hung on to finish third over Tom Berry while Mark Dahl rounded out the top five.
Pole sitter Alex Thompson led the field to the green flag in the IMCA Mach Sport Compact fea­ture. Thompson led the first lap before getting too high off turn.
On the restart, Ken Sandberg and rookie Braydee Hanson made contact battling for the lead.
On the final restart of the night, it was a three-car battle for the lead between Sandberg, Hanson and Thompson. Hanson shuffled into the lead and started to pull away from second place Thomp­son.
Sandberg, meanwhile, fell into the clutches of Andy Reed and they briefly raced side-by-side. When the checkered flag waved, Hanson found victory lane for the first time of his racing career over Thompson.