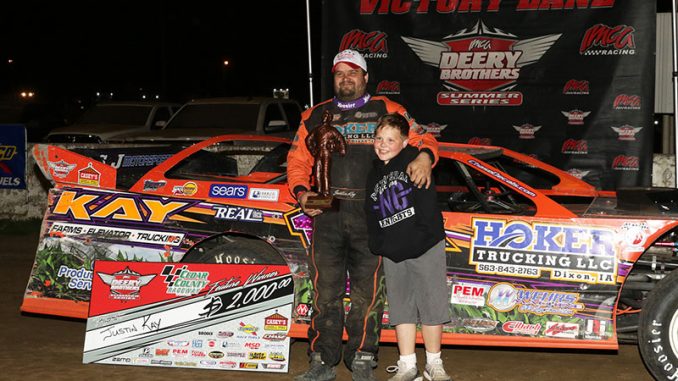 TIPTON, Iowa (April 20) – Another Deery Brothers Summer Series event at Cedar County Raceway ended with another feature win for Justin Kay.
Kay won his fifth consecutive IMCA Late Model tour main event at Tipton Saturday night, earning $2,000. The victory was the career 28th for the three-time and defending series champion, now the first driver to win five consecutive Deery events at the same track.
"There's just something about Cedar County," Kay said of the track he started racing at and where he won the only 4-cylinder track title of his career. "I love racing there."
The 491st event in Deery Series history saw Kay motor from sixth starting to second, then pass pole starter Andy Eckrich on the 13th of 50 circuits.
The race stayed green the last 32 laps and while Eckrich was able to make up ground in traffic he wasn't able to find a way around the leader.
Eckrich, Jeremiah Hurst, Tyler Bruening and Ryan Dolan rounded out the top five. Hard charger Joe Zrostlik started 17th and finished sixth.
"I figured out how to make the middle line work," said Kay. "It was just a fun night overall. Last year we started off with three wins in a row and then didn't get another one the rest of the season. It's pretty cool to start this year out with a win."
Thirty-six Late Models saw action as the tour opened at Tipton for the second straight year. Rookie Dalton Simonsen was among four heat winners.
Winner of the $250 Sunoco Race Fuels feature qualifier drawing was Hurst.
Kay had shared the previous record of four straight wins at the same track with Mark Burgtorf, who'd put that streak together at Lee County Speedway from 1998-2000.
Next up on the Deery Series schedule are the $2,000 to win Saturday, April 27 show at Independence Motor Speedway and the $2,500 to win event Sunday, April 28 at Dubuque Speedway.
Feature results – 1. Justin Kay, Wheatland; 2. Andy Eckrich, Oxford; 3. Jeremiah Hurst, Dubuque; 4. Tyler Bruening, Decorah; 5. Ryan Dolan, Lisbon; 6. Joe Zrostlik, Long Grove; 7. Andy Nezworski, Buffalo; 8. Matt Ryan, Davenport; 9. Curt Martin, Independence; 10. Tommy Elston, Keokuk; 11. Chad Holladay, Muscatine; 12. Tim Simpson, Iowa City; 13. Terry Neal, Ely; 14. Joel Callahan, Dubuque; 15. Luke Merfeld, Dubuque; 16. Todd Malmstrom, Silvis, Ill.; 17. Dalton Simonsen, Fairfax; 18. Lee Kinsella, Peosta; 19. Paul Nagle, Nevada; 20. Darrel DeFrance, Marshalltown; 21. Todd Van Tassel, Delmar; 22. Brian Harris, Davenport; 23. Doug Nigh, Maquoketa; 24. B.J. Jackson, Clinton.
Contingency Award Winners:
Justin Kay: Wehrs Machine & Racing Products ($50), Total Power ($50) and Tom Cat Performance (throttle rod).
Andy Eckrich: Schoenfeld Headers ($50), Motorsports Warehouse ($50), Casey's General Store ($50) and PEM (set of quick change gears).
Jeremiah Hurst: KSE ($100), Dynamic Drivelines ($50), Out-Pace Racing Products ($50) and Hawaiian Island Shine (two quarts of Mud-B-Gone).
Tyler Bruening: BSB Manufacturing ($50) and Autometer ($50).
Ryan Dolan: Hooker Harness ($50) and Day Motorsports ($50).
Heat winners Dalton Simonsen, Justin Kay, Ryan Dolan and Matt Ryan all have their entry fees paid for the April 27 Independence show.