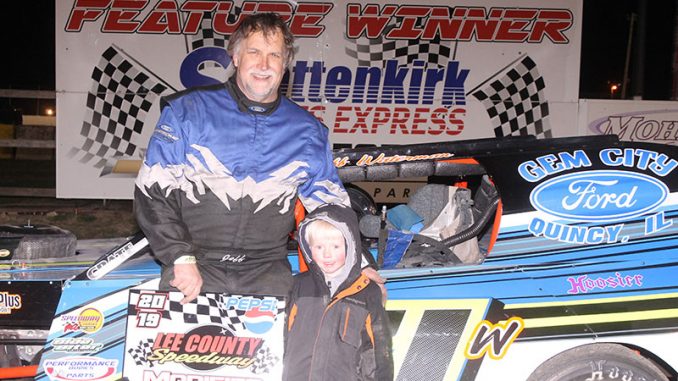 By Brian Neal
DONNELLSON, Iowa (April 12) – Jeff Waterman began his pursuit of another Lee County Speedway track title with the opening night IMCA Modified feature victory.
Friday's 20-lap Budweiser IMCA Modified main saw Dennis LaVeine and Dakota Simmons draw the front row. LaVeine took advantage of his spot to jump out into the lead over Andrew Schroeder and Simmons.
Schroeder looked under LaVeine over the next five laps, before the first caution of the race appeared. On the restart, LaVeine jumped back out front with Waterman, who started ninth, coming from fifth to second.
While LaVeine worked the bottom of the track, Waterman used the top to try and wrestle the lead away. Coming off turn four on lap nine, Waterman used his momentum off the top to edge LaVeine at the line to take over the top spot.
Waterman maintained his advantage following a lap 10 restart as Schroeder and LaVeine battled for second. The final half of the race would go caution free, which allowed Waterman to pull away. LaVeine was second and John Oliver Jr. took third.
Other winners were Jeremy Pundt in the Donnellson Tire & Service IMCA Stock Cars, Brayton Carter in the Roberts Tire Center IMCA Northern SportMods and Jake Houston in the Discount Tire & Service IMCA Sport Compacts.