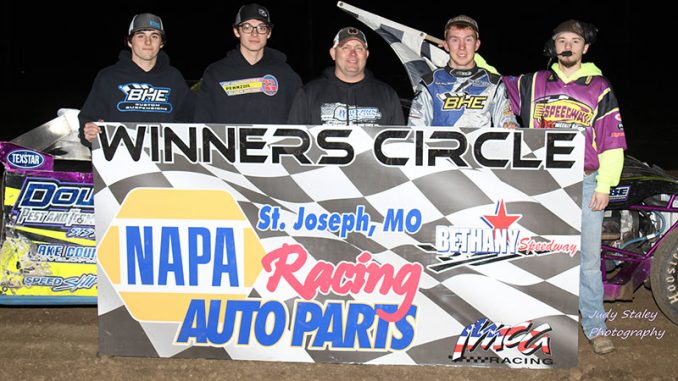 By Rick Staley
BETHANY, Mo. (April 6) – Chase Rudolf has a Karl Kustoms Northern SportMod feature win to show for his first-ever visit to Bethany Speedway.
R.J. Dishong used a front row starting position to take the lead and appear to be set for the Satur­day win until a caution bunched the field back up. On the mid-race restart, Rudolf made a daring move on the high side of turn two to take the lead from Dishong.
Rudolf gradually pulled away from the pack and captured the win. Jeffrey Sears moved to the inside of the track and claimed second with Randy Smith Jr. a solid third. Defending champion Josh Munsen was fourth and Colton Nelson battled back from an early race mishap to place fifth.
Mike Nichols set a blistering pace and cruised to his second IMCA Sunoco Stock Car Missouri victory of the weekend. Mich Ross battled his way to a second place showing with Brad Derry impressing with a solid third place finish. A great race ensued for the fourth position as Blake Peeler edged Conner Masoner for the spot.
Fans would sense the excitement as IMCA Modifieds took to the track with a loaded field of competi­tors. Richard Spriggs and Jeff James set the pace early, battling back and fourth for the front until Steven Bowers Jr. worked his way through traffic to challenge for the lead.
Bowers and James raced hard and clean, putting pressure on each other until James slipped in turn four, allowing Bowers to take the front.
Bowers was not to be denied his own second win of the weekend. James settled for second, Clay Hale bounced back from an early race mishap to capture third with Spriggs ending the night fourth. Dustin Miller, in his first time out in IMCA Modified would impress with a solid fifth place finish.