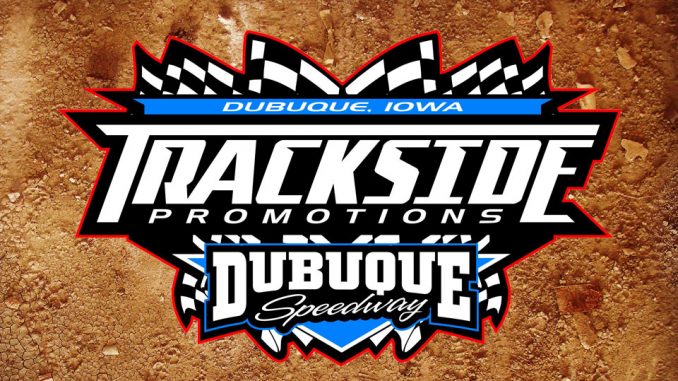 DUBUQUE, Iowa – New promoter Nick McCrady has a to-do list that starts with putting on an enter­taining race program each and every Sunday this race season at Dubuque Speedway.
"This is an awesome facility and we're excited to work with the fair board here. We've already gotten a lot of support from drivers and fans," said McCrady, who also returns to the promoter's post at Saturday venue Maquoketa Speedway. "We want them to know they're appreciated and we want to put on a good show while we're building car counts back up."
Five sanctioned divisions will run weekly at the 3/8-mile oval in Dubuque, the IMCA Modifieds, IMCA Late Models, IMCA Sunoco Stock Cars, IMCA Sunoco Hobby Stocks and Karl Kustoms Northern SportMods. 
The same five divisions run at Maquoketa.
"The Saturday-Sunday combination means drivers who live in the area won't have to travel too far to race twice a week," noted McCrady. "Plus, a two-track point fund is in the works for all shared divisions, with payouts that we'll base on season-long point standings."
Modifieds and Northern SportMods have been on regular race programs at Dubuque since 2012. Late Models and Stock Cars were last sanctioned in 2017, Hobby Stocks most recently in 2014.
Dubuque and Maquoketa are part of IMCA's Side Biter Chassis North Central Region for Modi­fieds, EQ Cylinder Heads Northern Region for Stock Cars and Big Daddy Race Cars Northern Region for Hobby Stocks.
"We were successful last season at Maquoketa and that helped open some doors for us this year," said McCrady, who chose Dubuque over several other promotional opportunities. "I'm looking forward to this season and seeing what we can accomplish at these two tracks."
Part of McCrady's Trackside Promotion team will work at both facilities.
Dates for the IMCA Speedway Motors Weekly Racing point season at Dubuque are April 14 through Sept. 1. The point season at Maquoketa runs from April 13 through Aug. 31.
Both tracks will host Deery Brothers Summer Series events this season. Touring IMCA Late Mod­els are at Dubuque on April 14 and at Maquoketa April 13 and Aug. 10.