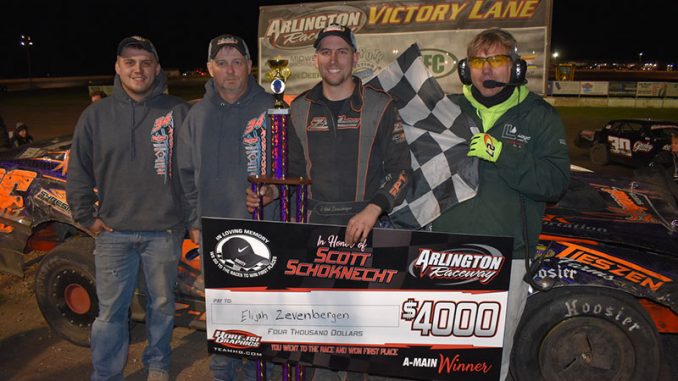 ARLINGTON, Minn. (Sept. 29) – Arlington Raceway saw a repeat IMCA Sunoco Stock Car winner in Elijah Zevenbergen while Tyler Limoges topped the IMCA Modified feature in Saturday's season-ending Scott Schoknecht Shootout.
Zevenbergen began his charge to the $4,000 Schoknecht checkers from way back in 10th starting. Five cautions came out on the 15th lap and Zevenbergen was able to capitalize on the final restart, motoring past Curt Lund for the lead.
Hard charger contenders Matt Speckman and David Moriarty got in the mix, Speckman coming from 13th starting to third and 'B' qualifier Moriarty from 18th starting to fourth.
Zevenbergen held all challengers at bay for the big money, winning ahead of Lund, Speckman, Moriarty and Rick Mees.
Mees picked up the hard charger bonus of $600 after passing 15 cars.
Limoges led start to finish in the Modified feature to earn $2,000, the biggest payday in his racing career.
The new Fast Shafts All-Star Invitational ballot qualifier took the lead from the second row and was pursued much of the way by Josh Rogotzke, who pulled off with mechanical issues on lap 18 and gave up the second spot to Brandon Beckendorf.
The 10th starting Beckendorf chased Limoges in lapped traffic as Mark Noble worked his way to third.
Neither would be able to reel in the leader, however, and finished in that order behind him. Clint Hatlestad was fourth and Trent Loverude passed 15 cars to earn the $600 bonus and fifth place.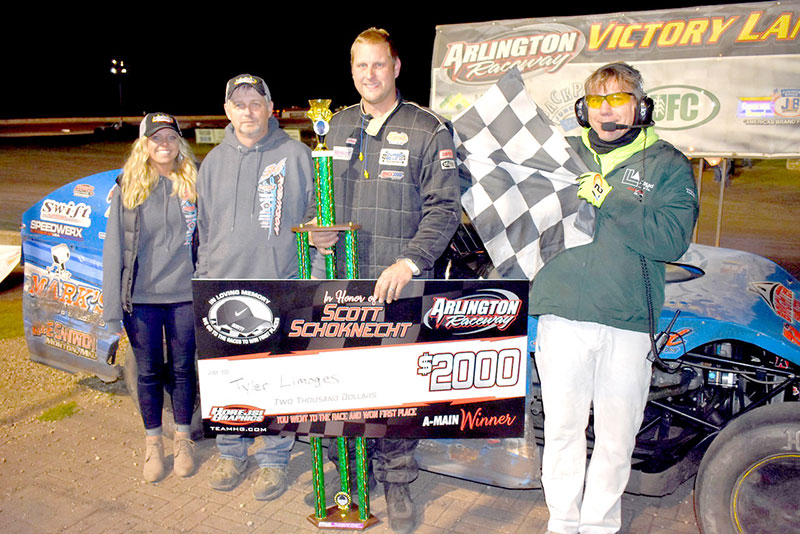 Cory Probst ran third much of the way before taking charge on the final circuit of the IMCA Sunoco Hobby Stock feature. Runner-up was Luke Trebelhorn and third was Mike Christensen.
Brady Forbrook led Brandon Allen and Neil Stevens to the IMCA RaceSaver Sprint Car checkers.
Tony Rialson led the entire caution-free Karl Chevrolet Northern SportMod feature to pick up his first feature win of the year at Arlington. Jeff Carter and Dave Siercks completed the top three.
The fourth and final leader in the Mach-1 Sport Compact main event was Dustin Virkus. Terry Blowers and Jake Smith were next across the stripe.
Feature Results         
Stock Cars – 1. Elijah Zevenbergen; 2. Curt Lund; 3. Matt Speckman; 4. David Moriarty; 5. Rick Mees; 6. Derek Green; 7. Clint Hatlestad; 8. Luke Sathoff; 9. Brent Uecker; 10. Kyle Falck; 11. Jeff Larson; 12. Dustin Larson; 13. Kevin LaTour; 14. Brad Lange; 15. Larry Karcz; 16. Pete Alexander; 17. Matt Haid; 18. Matthew Schauer; 19. Shaun Bruns; 20. Chad Schroeder; 21. Jake Bruns; 22. Dean Cornelius; 23. Dan Mackenthun; 24. Rob VanMil.
Modifieds – 1. Tyler Limoges; 2. Brandon Beckendorf; 3. Mark Noble; 4. Clint Hatlestad; 5. Trent Loverude; 6. Curt Lund;   7. Rob VanMil; 8. Ryan Bjerkeset; 9. Ryan Canon; 10. Dalton Magers; 11. Kris Zuhlsdorf; 12. Ben Chukuske; 13. Tim Pessek; 14. Aaron Johnson; 15. Chad Porteron; 16. Joe Roberts; 17. Josh Rogotzke; 18. Josh Larsen; 19. Chris Neisen; 20. Nick Steinhaus.
RaceSaver Sprint Cars – 1. Brady Forbrook; 2. Brandon Allen; 3. Neil Stevens; 4. Billy Johnson; 5. Brett Allen; 6. Javen Ostermann; 7. Andrew Ahlers; 8. Bruce Allen; 9. Trevor Serbus; 10. Zach Glaser; 11. Jeremy Schultz.
Hobby Stocks – 1. Cory Probst; 2. Luke Trebelhorn; 3. Mike Christensen; 4. Tim Huseby; 5. Ben Reierson; 6. Brad Becker; 7. Jeremy Ziemke; 8. Nathan Gegner; 9. Josh Lien. 10. Joe Huseby; 11. Clayton Lommen; 12. Nate Manderfield; 13. Ashelyn Moriarty; 14. Mike Swanson; 15. Jordan Robinson; 16. Riley Gruenhagen; 17. Tony Winters; 18. Andrew LaTour;   19. Scott Koep; 20. Corey Schultz; 21. Chris Plamann.
Northern SportMods – 1. Tony Rialson; 2. Jeff Carter; 3. David Siercks; 4. Matthew Looft; 5. Kevin Kirk; 6. Jeff Lloyd; 7. Eric Larson; 8. Eric Bassett; 9. Jeremy Brown; 10. John Albrecht; 11. Brandon Opsahl; 12. Tom Malchow Jr.; 13. Adam Voss; 14. Brett Trebesch; 15. Tommy Anderson; 16. Tiffany Maus; 17. John Rice; 18.  Zach Schultz; 19.  Joe Maas; 20.  Mike Kennedy; 21. Eric Boler.
Sport Compacts – 1. Dustin Virkus; 2. Terry Blowers; 3. Jake Smith; 4. Scott Porter; 5. Alex Dostal; 6. Justin Forcier; 7. Max Nelson; 8. Brittany Smith; 9. Jed Trebelhorn; 10. Brock Klaith; 11. Justin Dose; 12. Alan Lahr; 13. Joseph Fitzsimmons; 14. Gavin Maass; 15. Joe Regner; 16. Tim Senne; 17. Kayla Dostal; 18. Nicole Johnson.