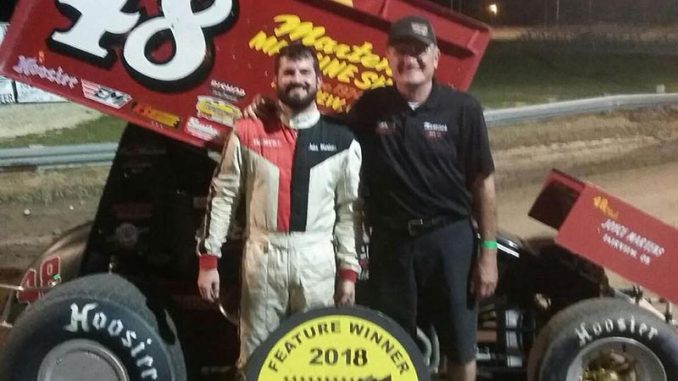 STOCKTON, Kan. (Aug. 17) – Jake Martens put in a stellar performance as he won his third United Rebel Sprint Series feature of the season, dominating Friday's 20-lap main event at Stockton Speedway.
Jake Bubak jumped into the lead and led the first two laps until a caution flew. On the restart, Martens slid Bubak in turn one, taking the lead and never looking back.
Martens stretched his lead each lap to win by 10 car lengths over Bubak, Zach Blurton came and Jordan Knight. Scott Cochran, making his first appearance of the year with the Rebels, completed the top five.
Mark Walinder was the Keizer Wheels Hard Charger recipient, racing from his 17th starting position to finish seventh.
Feature results – 1. Jake Martens; 2. Jake Bubak; 3. Zach Blurton; 4. Jordan Knight; 5. Scott Cochran; 6. Jed Werner; 7. Mark Walinder; 8. Brandy Jones; 9. Tyler Knight; 10. John Webster; 11. Ken Lutters; 12. Chad Salem; 13. Aaron Ploussard; 14. Shane Sundquist; 15. J.D. Johnson; 16. Ty Williams; 17. Buddy Tubbs; 18. Darren Berry.