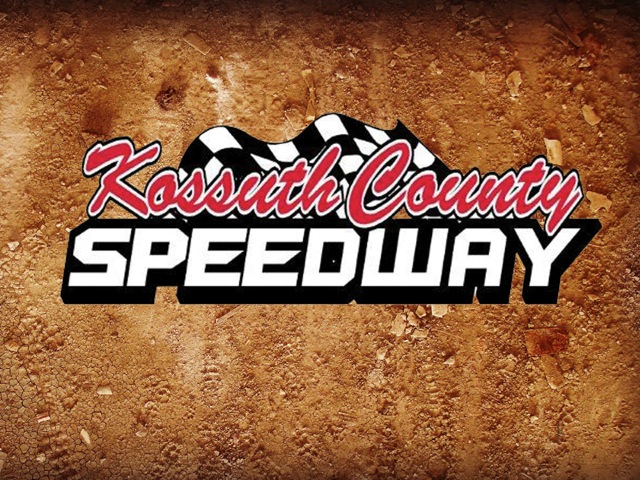 By Greg Grabianowski
ALGONA, Iowa (Aug. 9) – Elijah Zevenbergen was fast as lightning in winning the Thunderdome feature for IMCA Sunoco Stock Cars at Kossuth County Speedway.
Zevenbergen and Derek Green both drew front row spots and chose to start at the back of the field for the $1,000 challenge if either could win the feature.
Kevin Opheim jumped out to the early lead with a caution coming out on lap five. David Smith wrestled the lead away off the restart as Green moved into the top four spots only to see a pair of flat tires end his night.
Zevenbergen, who was involved in a spinout on lap five and went to the back of the field again, slowly weaved his way through traffic to move into a battle for the lead with Smith and Opheim.
He slid past Smith on lap 11 and went on to his second local victory of the season at the track and took home a cool check for $2,150 for the win.
Smith held on for the runner-up slot as Opheim finished third with Chad Palmer fourth and Luke Sathoff fifth.
Californian D.J. Shannon earned $1,000 and a Fast Shafts All-Star Invitational ballot berth for the IMCA Modified win.
Tad Reutzel took advantage of a caution with two laps left and briefly pulled even with the leader before settling for second. Austin Wolf, Clayton Christensen and Brandon Beckendorf rounded out the top five.
A trio of cautions were all that slowed Doug Cook on his march to the $1,150 Karl Chevrolet Northern SportMod checkers.
Cory Probst earned the same amount for his IMCA Sunoco Hobby Stock victory.
Oliver Monson motored to his seventh local Mach-1 Sport Compact win of the season.
Feature Results
Modifieds – 1. D.J. Shannon; 2. Tad Reutzel; 3. Austin Wolf; 4. Clayton Christensen; 5. Brandon Beckendorf; 6. Cody Knecht; 7. Ben Schultze; 8. Bill Crimmins; 9. Loren Pesicka Jr.; 10. Kevin Sustaire; 11. Rob Hughes; 12. Jason Schneiders; 13. Ben Kraus; 14. Mat Hollerich.
Stock Cars – 1. Elijah Zevenbergen; 2. David Smith; 3. Kevin Opheim; 4. Chad Palmer; 5. Luke Sathoff; 6. Mitch Dowhower; 7. Bruce Wickman; 8. Dan Hanselman; 9. David Wickman; 10. Kellie Schmidt; 11. Kyle Ricke; 12. John Wiemann; 13. Laura Curry; 14. Derek Green; 15. Calvin Lange; 16. Levi Feltman.
Hobby Stocks – 1. Cory Probst; 2. Brandon Nielsen; 3. Greg Sidles; 4. Gary Pesicka; 5. Bryce Sommerfeld; 6. Keeran Sampson; 7. Austin Jahnz; 8. Corey Schreiber; 9. Malik Sampson; 10. Jay Sidles; 11. Jacob Kofoot; 12. Christopher Krug; 13. Myles Koob; 14. James Burns; 15. Darin Johnson; 16. Mike Schadendorf; 17. Dylan Nelson; 18. Daniel Smith; 19. Chad Krug; 20. Kyle Sidles; 21. Jamie Weishaar; 22. Josh Sidles.
Northern Sport Mods – 1. Doug Cook; 2. Matt Looft; 3. Josh Meyer; 4. Jake McBirnie; 5. Alec Fett; 6. Jake Simpson; 7. Dallas Nutt; 8. Jason Baas; 9. Taylor Elliott; 10. Josh Appel; 11. Frank Packer; 12. Alex Smith; 13. Nate Albrant; 14. George Gilliland; 15. Greg Kramer; 16. Brandon Toftee; 17. Devin Fish.
Sport Compacts – 1. Oliver Monson; 2. Jay DeVries; 3. Bubba Brown; 4. Kaytee DeVries; 5. Lucas Parsons; 6. Chris Wilson; 7. Terry Blowers; 8. Jacob Tacheny; 9. Ashlee Kelly; 10. Justin Nielson.