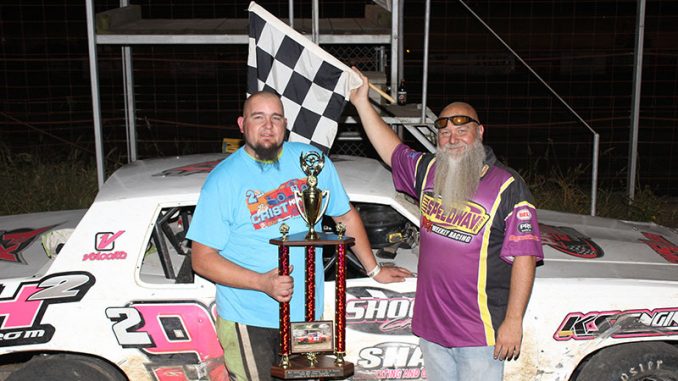 OSBORN, Mo. (July 27) – Twenty-two near-perfect laps after taking the initial green flag, Blake Peeler was celebrating a $1,262 payday and the highlight of his IMCA Sunoco Stock Car career.
Peeler led every circuit of US 36 Raceway's Joe Crist Memorial Friday night, taking the big win in front of a packed grandstand at Osborn.
Peeler took command from the start of the second annual event after wife Nellie drew the two pill for him. A couple cautions kept him out of lapped traffic and Peeler put some distance on the rest of the field following the final restart with four laps left.
"I've won championship night and mid-season championship night features before but this is the absolute highlight of my career," he said. "I'm good friends with the (Crist) family so winning this race means a lot to me."
Brad Whitney was second, a couple car lengths back, and hard charger Mich Ross was third. Bil­lie Hoover and Brian LaBonte completed the top five.
"I knew Brad would race me clean," said Peeler. "As long as I didn't make any mistakes, I'd be OK."
Other winners included Chad Clancy in the IMCA Modifieds, Matt Richards in the IMCA Rac­eSaver Sprint Cars, and Jeremy Pittsenbarger in the Karl Chevrolet Northern SportMods.
Stock Car feature results – 1. Blake Peeler; 2. Brad Whitney; 3. Mich Ross; 4. Billie Hoover; 5. Brian LaBonte; 6. Chad Clancy; 7. Robert Fisk; 8. Lance Dixon; 9. Brad LaBonte; 10. Tim Hosel­ton; 11. Danny Holt; 12. Anthony Whitham; 13. Josh Steele; 14. Greg Keuhn; 15. Jeb Hayes; 16. Alvie Christofferson; 17. Carson Masoner; 18. Thomas Roberts; 19. Nate Barnes; 20. Jason Es­tes; 21. Dean Wray; 22. Anthony Robertson; 23. Tom Smith; 24. Aaron Sauter; 25. Derrick Brown.