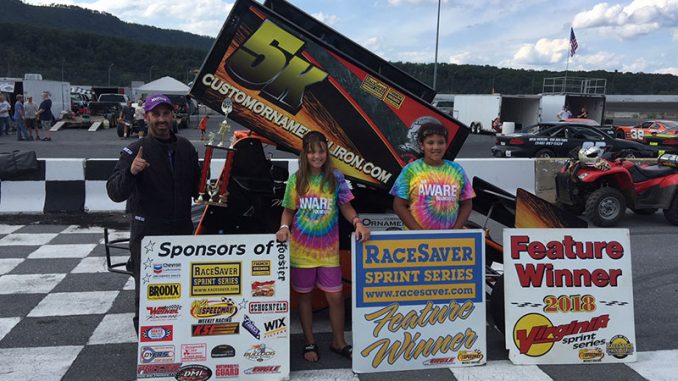 By Jim Haines
SHENANDOAH, Va. (July 28) – Mike Keeton showed the way to the front of the IMCA RaceSaver Sprint Car field at Shenandoah Speedway Saturday night and stayed there for his first Virginia Sprint Series win of the year.
Chris Ware and Bill Rice made up the front row for the start with Rice out first and Ware right be­hind. Tony Harris, Keeton, Jerald Harris and Glenn Worrell were all lined up and working on Ware in order to get a crack at the leader.
Tony Harris got by first to chase down Rice. After some shuffling behind the leader, the top four were all together with Harris holding off Worrell as Keeton was working on Rice for the lead.
Keeton went to the front with 10 to go as Worrell took over second three laps later.
Keeton would not be caught, however, as he flashed under the checkered flag first with Worrell and Tony Harris close behind.
Next Friday it's the final Fast Friday event of the year at Dixieland Speedway in Elizabeth City, N.C., on Aug. 3.
Feature results – 1. Mike Keeton; 2. Glenn Worrell; 3. Tony Harris; 4. Bill Rice; 5. Jerald Harris; 6. Chris Ware; 7. Josh Perreault; 8. Matt Mullins.