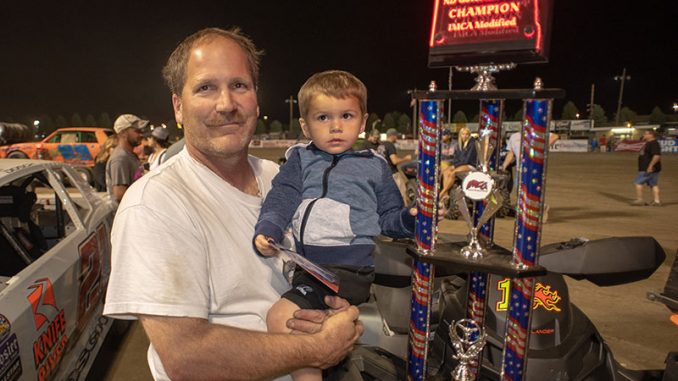 MANDAN, N.D. (July 27-28) – Casey Arneson and Jeff Taylor were $800 feature winners while Mark Dahl's consistency made him the overall IMCA Modified champion at Dacotah Speedway's Governor's Cup special.
Arneson captured the Friday night victory ahead of Travis Hagen and Dahl. Taylor pulled away in collect­ing the Saturday win, with Jeremy Keller, Dylan Goplen and Dahl next across the stripe.
Arneson caught Marcus Tomlinson for the lead early in the opening night show, then pulled away as Tomlinson started to fall into the clutches of Dahl and Hagen.
Dahl passed Tomlinson, bringing Hagen with him. Hagen grabbed the second position with 10 laps to go and began reeling in Arneson as the leader dealt with lapped traffic.
Arneson ultimately used that traffic to his advantage, however, holding off Hagen for his first feature vic­tory at Mandan.
Dahl held the Saturday advantage until Keller took advantage of a restart and took the lead away with 10 laps left. Another caution set up what proved to be an eight lap shootout.
On the restart, Goplen dove low under Dahl for second. As they battled, it allowed Taylor to fly by on the high side of the track to take second place. Taylor then found speed along the high side and quickly caught and passed Keller for the lead and the win while Dan Aune finished a season-best fifth place.
Seth Howe-Kellar swept Mach-1 Sport Compact honors, winning both features and the Governor's Cup.
July 27 Feature Results
Modifieds – 1. Casey Arneson; 2. Travis Hagen; 3. Mark Dahl; 4. Shawn Strand; 5. Marcus Tomlinson; 6. Jeremy Keller; 7. Josh Rogotzke; 8. Marlyn Seidler; 9. John Corell; 10. Jeff Taylor; 11. Spencer Wilson; 12. Travis Tooley; 13. Quentin Kinzley; 14. Les McLenehan; 15. Tracy Domagala; 16. Shawn Nostdahl; 17. Rusty Kollman; 18. Rusty Corneliusen; 19. Myles Tomlinson; 20. Jarrett Carter; 21. Bland Bohannon; 22. Brent Schlafmann; 23. Zach Dockter; 24. Tim Perkins; 25. Travis Peery.
Sport Compacts – Seth Howe-Kellar; 2. Craig Kastner; 3. Ken Sandberg; 4. Andy Reed; 5. Stan Thomp­son; 6. Tanner Hofer; 7. Shad Pederson; 8. Alex Thompson.
July 28 Feature Results
Modifieds – 1. Taylor; 2. Keller; 3. Dylan Goplen; 4. Dahl; 5. Dan Aune; 6. Strand; 7. Marcus Tomlinson; 8. Corell; 9. Hagen; 10. Travis Ulmer; 11. Carter; 12. Seidler; 13. Kinzley; 14. Tooley; 15. Andrew Barg­mann; 16. Rogotzke; 17. Dockter; 18. Perkins; 19. McLenehan; 20. Myles Tomlinson; 21. Peery; 22. Bo­hannon; 23. Wilson; 24. Corneliusen; 25. Arneson.
Sport Compacts – 1. Howe-Kellar; 2. Reed; 3. Kastner; 4. Sandberg; 5. James Gilbert; 6. Stan Thomp­son; 7. Alex Thompson; 8. Hofer; 9. Pederson.