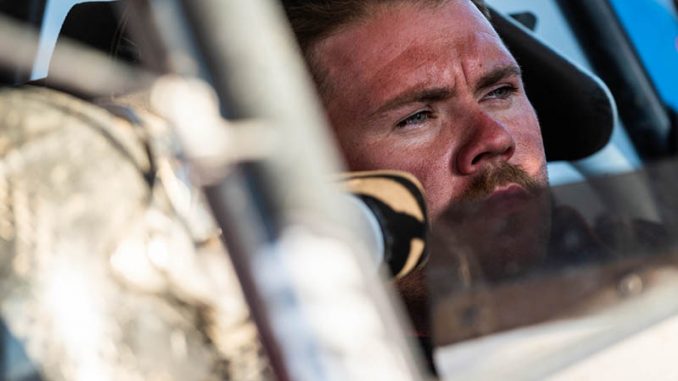 By Becca Pelkey
MANDAN, N.D. (July 13, 2022) – Tom Berry Jr. is just 30 laps from unprecedented Corral Sales IMCA Dakota Classic Tour perfection. 
Berry won his fifth Friesen Performance IMCA Modified feature and $2,000 in as many nights Wednesday at Dacotah Speedway, matching Steve Arpin's 5-for-5 tour in 2007. He'll chase that record-breaking sixth win when the tour concludes Thursday at Mandan.
"We've been good. I don't know what else to say. We've been up here every night," Berry said from victory lane. "Luck's been on our side. I've got a lot of good help backing me and that makes it all go around."
"It was overall a good night. Now we've got one more night."
Hometown driver Shawn Strand led early from the pole with Berry moving quickly toward the front from his sixth starting spot.
The 2019 tour and 2020 national champion Berry caught and passed Strand before a lap three caution regrouped the field. On the restart, Berry ran away with the lead, quickly putting cars a lap down.
The race became for second as Ricky Alvarado and Travis Hagen battled hard. With two laps to go, Hagen passed Alvarado and finished a distant second, remaining mathematically in the running for the tour championship.
Alvarado, Strand and 2021 tour champion Tim Ward were third through fifth, respectively.
The bounty on Berry reached $750 by mid-morning Thursday. Tour officials were also mulling a back row challenge, with that decision to be made by late afternoon.
Inclement weather had denied Arpin the chance to win a sixth tour race, with the night two event at Estevan Motor Speedway falling to rain.
Hard-charging Shelby Williams became a first-time tour winner Wednesday, just getting the edge on Trent Grager coming to the checkers in the IMCA Sunoco Stock Car feature.
Rookie Jason Berg led early and was kept busy trying to hold off Trent Grager and Randy Klein as Williams worked his way up from the 14th starting spot.
As the laps wound down, the track surface continued to widen and get racier and allow Austin Daae, Williams and Matt Speckman a chance at the win.
Grager finally got his opportunity to pass Berg with seven laps to go. With the checkers in site, however, Williams look low coming to the finish line and narrowly edged Grager for a thrilling victory.
"This means everything to me, said $1,000 winner Williams, already eligible to qualify for the B & B Racing Chassis All-Star Invitational. "You've got to race the best to beat the best and we're here to out run 'em."
Grager solidified his hold on the Stock Car points lead with his runner-up finish. Jason Berg, Daae and Brendon LaBatte rounded out the top five.
Thursday's tour finale will be broadcast by IMCA.TV, beginning at 7 p.m. CST.
Feature Results
Modifieds – 1. Tom Berry Jr.; 2. Travis Hagen; 3. Ricky Alvarado; 4. Shawn Strand; 5. Tim Ward; 6. Tanner Black; 7. Quentin Kinzley; 8. Dakota Sproul; 9. Marlyn Seidler; 10. Eddie Belec; 11. Mark Dahl; 12. Jeremy Keller; 13. Justin O'Brien; 14. Spencer Wilson; 15. Ethan Braaksma; 16. Jason Wolla; 17. Drew Christianson; 18. Jeremy Richey; 19. Cody Peterson; 20. Jeff Taylor; 21. Jake McBirnie; 22. Travis Tooley; 23. Bland Bohannon; 24. Crist Pittenger; 25. Chris Tuchscherer; 26. Jordan Sours; 27. Braxton Yeager; 28. Ethan Dotson.
Stock Cars – 1. Shelby Williams; 2. Trent Grager; 3. Jason Berg; 4. Austin Daae; 5. Brendon LaBatte; 6. Matt Speckman; 7. Randy Klein; 8. Andrew Jochim; 9. Rob VanMil; 10. Jordan Zillmer; 11. Brennan Borg; 12. Angel Munoz; 13. Jake Nelson; 14. Kevin Roberts; 15. Tim Pessek; 16. Scott Gartner; 17. Travis Ulmer; 18. Zachary Madrid; 19. Joe Flory; 20. Casey Binstock; 21. Dalton Flory; 22. Dan Mackenthun; 23. Adam Goff; 24. Austin Brands.