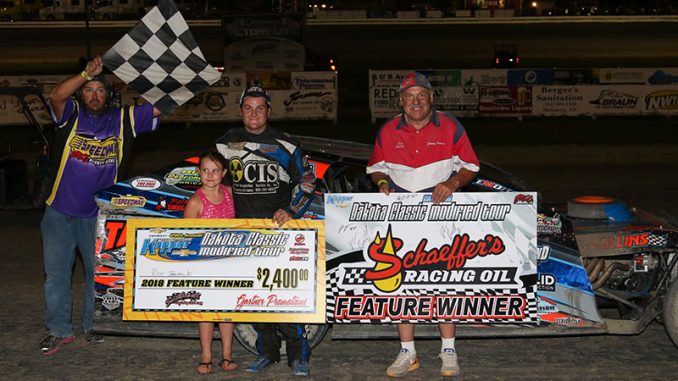 By Mike Spieker
DICKINSON, N.D. (July 11) – Winning streaks by both inclement weather and Hunter Marriott came to an end Wednesday night at Southwest Speedway.
Ricky Thornton Jr. picked up the Kupper Chevrolet Dakota Classic IMCA Modified Tour win at Dickinson, ending both the streak of two straight wins by two-time defending champion Marriott and then back-to-back rainouts.
R.C. Whitwell and Shawn Strand made up the front row for the 30-lap main event. Whitwell grabbed the lead before Thornton got a run to go from fourth to second on lap two, getting by both Strand and Ethan Dotson.
The top three distanced themselves from the rest of the field at the halfway point. With 14 to go, Whitwell found himself in lapped traffic and had to move away from the preferred bottom groove, which allowed Thornton to reel him in.
Thornton dove to the inside with 10 to go to take the lead but Whitwell didn't go down without a fight. The Arizona driver battled back to go three wide with Thornton along with a lapped car in the mix. Whitwell reclaimed the lead with six to go as Marriott moved into third.
Thornton went back to the low groove to pull even with Whitwell. Thornton drove back into the lead with four to as Marriott looked to challenge Whitwell for second.
"Me and R.C. definitely had a hard race there. He gave me plenty of room… I gave him plenty of room and we ended up on top," said Thornton from victory lane.
The win paid $2,454. Thornton, the 2015 tour champion, was already on the Fast Shafts All-Star Invitational ballot.
A stout field of 31 IMCA Sunoco Stock Cars made the call for the night's 25-lap feature, won by four-time tour champion Elijah Zevenbergen.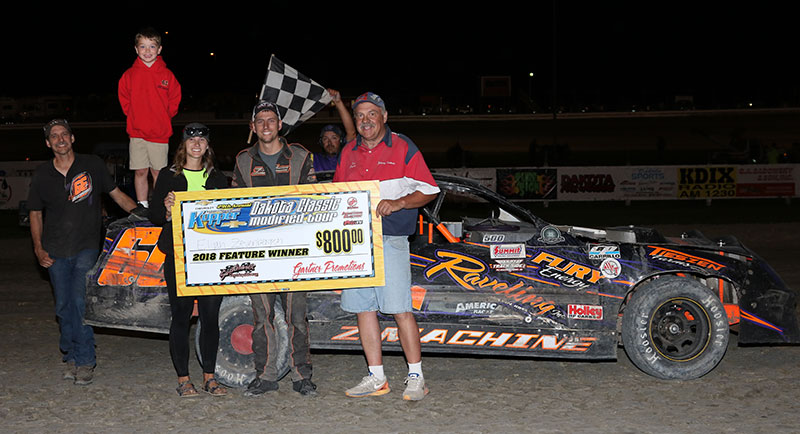 Fourth starting Austin Daae came up to challenge Keith Mattox and Chris Heim on lap two. The trio went three wide down the backstretch with Daae emerging as the leader. Zevenbergen raced his way to second by the first caution, on lap four.
After racing side by side for two circuits, Zevenbergen prevailed on the low side to take the lead. Once out front, Zevenbergen checked out to claim his second win on the 2018 tour. Dalton Flory edged out Daae for second, while Angel Munoz charged from 13th to fourth.
Feature Results
Modifieds – 1. Ricky Thornton Jr.; 2. Hunter Marriott; 3. R.C. Whitwell; 4. Jason Wolla; 5. Ethan Dotson; 6. Kelly Shryock; 7. Shawn Strand; 8. Tom Berry Jr.; 9. Billy Kendall III; 10. Tim Ward; 11. Jason Beaulieu; 12. Robert Hellebust; 13. Alex Stanford; 14. Steven Pfeifer; 15. Eddie Belec; 16. John Corell; 17. Dylan Goplen; 18. Paul Stone; 19. Justin O'Brien; 20. Travis Peery; 21. Kody Scholpp; 22. Chris Schroeder; 23. Chris Bragg; 24. Dan Aune; 25. Troy Girolamo; 26. Josh Rogotzke; 27. Kyle Brown; 28. Marlyn Seidler; 29. Travis Olheiser; 30. Travis Hagen.
Stock Cars – 1. Elijah Zevenbergen; 2. Dalton Flory; 3. Austin Daae; 4. Angel Munoz; 5. Jason Rogers; 6. Joe Flory; 7. Jake Nelson; 8. Chris Heim; 9. Matt Speckman; 10. Rob Stenvold; 11. Scott Yale; 12. Dave Moriarty; 13. Curt Lund; 14. A.J. Dancer; 15. Scott Gartner; 16. Keith Mat­tox; 17. Colin Heim; 18. Jody York; 19. Jeremy Swanson; 20. Andy Altenburg; 21. Beau Des­champ; 22. Blake Adams; 23. Cody Nelson; 24. Kirk Martin.