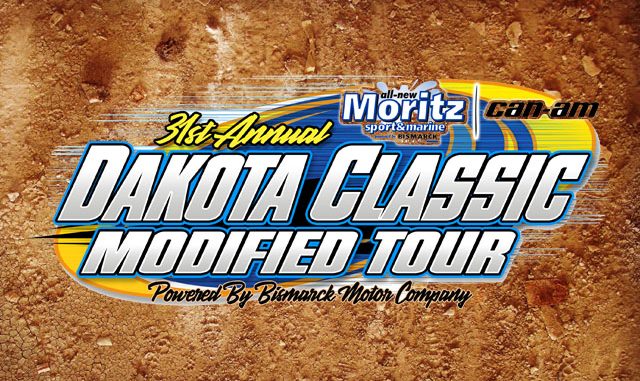 DICKINSON, N.D. (July 14) – Ricky Thornton Jr. returned to the 31st annual Moritz Sport & Marine Dakota Classic IMCA Modified Tour presented by Bismarck Motor Company feature ranks to claim yet another feature win Tuesday at Southwest Speedway.
Starting from the inside of row two, Thornton made quick work of polesitter Ryan Gaylord, claiming the lead early on.
A handful of cautions scattered throughout the race did not deter Thornton on his way to the $2,400 checkers. Jake O'Neil, Tripp Gaylord, Jason Wolla and Austin Arneson rounded out the top five.
Matt Speckman looked like he had the IMCA Sunoco Stock Car feature handled but became the victim of circumstance when second running Cole Trickle checked up and caught Speckman in the left rear, sending Speckman up and over and ending both of their nights.

The winner in the situation turned out to be tour dominator Elijah Zevenbergen, who took command of the field with 11 to go and only faced a brief challenge from Dalton Flory before motoring to his fourth win of the 2020 tour.
Flory, Chanse Hollatz, Eric Mahlik and Austin Daae rounded out the top five.
Feature Results
Modifieds – 1. Ricky Thornton Jr.; 2. Jake O'Neil; 3. Tripp Gaylord; 4. Jason Wolla; 5. Austin Arneson; 6. Alex Stanford; 7. Ricky Alvarado; 8. Robert Hellebust; 9. Billy Kendall; 10. Brad Hartigan; 11. Travis Hagen; 12. Jacob Bleess; 13. Grey Ferrando; 14. Tanner Black; 15. Casey Skyberg; 16. Eddie Belec; 17. Zachary Madrid; 18. Ryan Gaylord; 19. Shane DeVolder; 20. Scott Gartner; 21. John Corell; 22. Spencer Wilson; 23. Marcus Tomlinson; 24. Kyle Brown; 25. Shawn Strand; 26. Matt Aukland; 27. Mike Hansen; 28. Casey Arneson; 29. David Brown; 30. Marlyn Seidler.

Stock Cars – 1. Elijah Zevenbergen; 2. Dalton Flory; 3. Chanse Hollatz; 4. Eric Mahlik; 5. Austin Daae; 6. Jake Brown; 7. Travis Ulmer; 8. Keith Mattox; 9. Kyle Krogh; 10. Brennan Borg; 11. Alex Braun; 12. Adam Goff; 13. Joe Flory; 14. Tripp Gaylord; 15. Mike Swallers; 16. Matt Speckman; 17. Cole Trickle; 18. Angel Munoz; 19. Beau Deschamp; 20. Hailey Jordan.