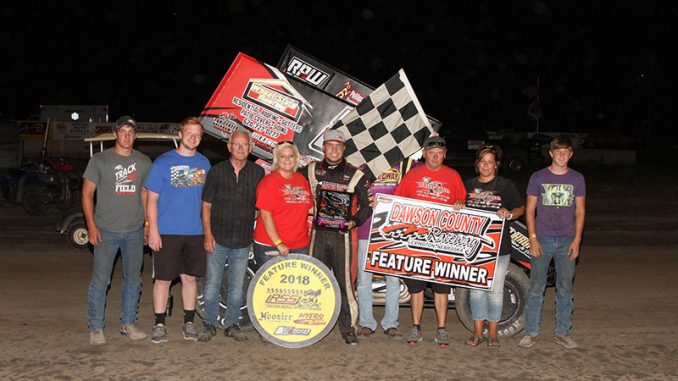 LEXINGTON, Neb. (July 8) – Zach Blurton took the lead at the start and never looked back to claim his second United Rebel Sprint Series victory of the season Sunday at Dawson County Race­way.
Tim Fricke and Brian Herbert started on the front row for the 20-lap IMCA RaceSaver Sprint Ca feature but it was the third-starting Blurton who took the lead as the green flag fell.
Tyler Drueke passed Herbert for the runner-up position on lap two but could only chase Blurton the rest of the way as the defending tour champion went on to become the first repeat series fea­ture winner on the season.
Eleventh starting Shon Pointer worked his way up to a third-place finish while Herbert and 10-start­ing Stu Snyder rounded out the top five.
The Keizer Aluminum Wheels hard charger award went to Coby Pearce as he worked his way up from his 17th starting position to finish eighth.
Feature results – 1. Zach Blurton; 2. Tyler Drueke; 3. Shon Pointer; 4. Brian Herbert; 5. Stuart Snyder; 6. Neil Nickolite; 7. Ty Williams; 8. Coby Pearce; 9. Jordan Knight; 10. Shane Sundquist; 11. Aaron Ploussard; 12. Tim Fricke. 13. Darren Berry; 14. Tyler Knight; 15. Nick Nichols. 16. Tom Belsky; 17. Chad Salem; 18. John Webster .