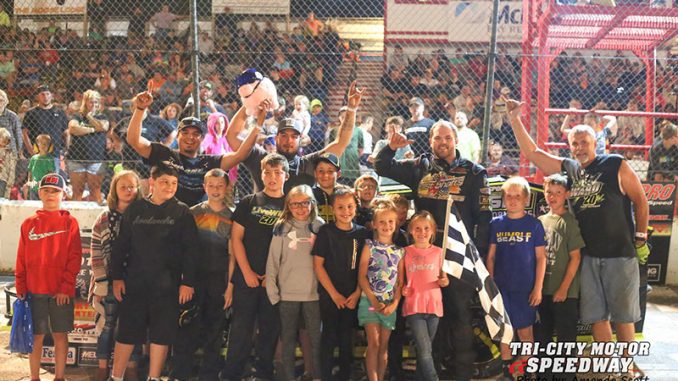 By Roger Williams
AUBURN, Mich. (June 15) – The first race in the new dirt track era of Tri-City Motor Speedway took place in mid-June back in 2011.
Each year, Tri-City commemorates the occasion with the annual Greased Pig special for the IMCA Modifieds. On Friday night, A.J. Ward won the event for the fourth time and earned $2,018.
Chris Cohoon started on the pole and led the field to green flag but his night ended early because of mechanical problems. With Cohoon out, the lead was handed to Matt Szecsodi, who took ad­vantage of a long green flag run and began to pull away from the field.
However, with 31 laps down and 10 to go, a caution bunched up the field and put the ninth start­ing Ward and defending track champion Kody Johnson on Szecsodi's rear bumper.
Ward fought Szecsodi using the bottom groove as the two tussled over the final seven circuits. The two-time defending Dirt Works Eastern Region champion, already on the Fast Shafts All-Star Invitational ballot, was finally able to clear Szecsodi to take his career fourth Greased Pig victory and collect the large payday.
Szecsodi settled for the runner-up finish. Johnson, John McClure and the 17th starting Chance Allen cleared the top five spots.
The Greased Pig was contested by 34 drivers.
Feature results – 1. A.J. Ward; 2. Matt Szecsodi; 3. Kody Johnson; 4. John McClure; 5. Chance Allen; 6. Chad Wernette; 7. Craig Vance; 8. Chad May; 9. Shannon Fisk; 10. Toby Steele; 11. Gary VanderMark; 12. Gavin Hunyady; 13. Don Sautter; 14. Preston DeShano; 15. Austin Wonch; 16. Chaz Pray; 17. Mitchell Hunt; 18. Nate Jones; 19. Todd Matheson; 20. Chris Cohoon.