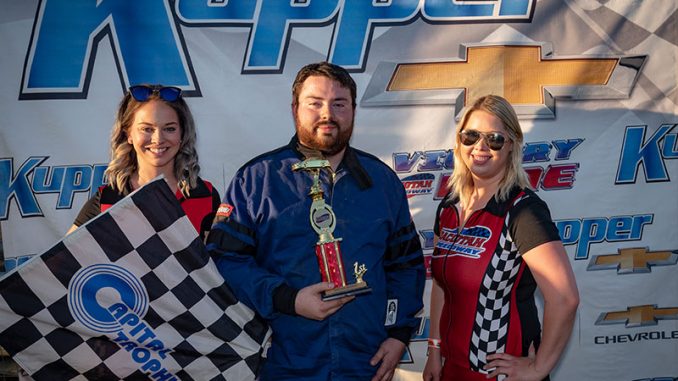 MANDAN, N.D. (May 25) – Andy Reed became a first-time Mach-1 Sport Compact feature winner in a Friday night barnburner at Dacotah Speedway.
An early caution regrouped the grid and pole sitter Seth Howe-Kellar led the field to green. The father-son duo of Stan and Alex Thompson raced side-by-side for the fourth position as they took the green flag.
Stan Thompson slid up in front of his son to claim the fourth position as Ken Sandberg had his hands full with Reed for second. While racing door-to-door for second, they started to reel in leader Howe-Kellar.
With four laps to go, it was a three-car battle for the win. Reed cleared Sandberg for second and peaked his nose under the machine of Howe-Kellar. They battled for the win with two laps to go.
Coming out of turn four and racing to the checkered flag, Reed held off Howe-Kellar to win his first Sport Compact feature. Sandberg finished third while Stan Thompson crossed the finish line fourth. Alex Thompson rounded out the top five.
Jason Wolla was the IMCA Modified winner.