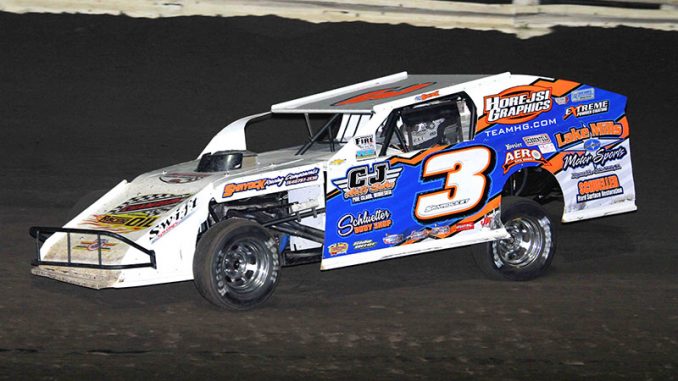 DONNELLSON, Iowa (April 11) – Kelly Shryock multi-tasked Wednesday night, mastering lapped traffic while outrunning Hunter Marriott in the IMCA Modified Frostbuster main event at Lee County Speedway.
Shryock started fourth and led the last 21 of 25 circuits at Donnellson, taking the $1,000 checkers ahead of Marriott – up from 11th starting – and Cayden Carter.
"I picked the smoothest lane and tried to be consistent," Shryock said following his first win of the season and IMCA career 82nd. "I was lucky and had a good starting position. Hunter has been pretty fast and when he got to second it was 'Oh boy, here we go,' but I was able to hold him off."
Shryock ran the extreme high line going into the first turn and dropped down to the middle groove in the second set of turns, bringing Marriott along into traffic.
"It's fun to be able to negotiate through that stuff, knowing that you've got bogeys on your tail," he said.
Shryock was already on the Fast Shafts All-Star Invitational ballot. Jeff Aikey and Chad Holladay completed the top five.
More than 120 cars saw action at Donnellson. Other opening night Frostbuster winners were Todd Reitzler in the IMCA Sunoco Stock Cars, Shannon Anderson in the IMCA Sunoco Hobby Stocks and Austin Howes in the Karl Chevrolet Northern SportMods.
Reitzler raced from ninth starting to beat Damon Murty and John Oliver Jr. to the checkers. Anderson's career 318th win in the division came in front of Eric Stanton and Leah Wroten.
Howes led a trio of hard chargers across the stripe. Runner-up Jake McBirnie had started 10th, Austin Becerra went from 12th to third and defending national champion Tyler Soppe from 14th starting to fourth.
Barry Taft was the Mach-1 Sport Compact victor.
Frostbuster Week continues Thursday for the Modifieds, Stocks, Hobbies and Northern SportMods at Benton County Speedway. The gates open at Vinton at 5 p.m. and the grand­stand opens at 5:30 p.m. Hot laps are at 7 p.m. with rac­ing to follow.
Frostbusters are April 13 at Marshalltown Speedway and April 14 at Boone Speedway.
Feature Results
Modifieds – 1. Kelly Shryock; 2. Hunter Marriott; 3. Cayden Carter; 4. Jeff Aikey; 5. Chad Holladay; 6. Cory Wray; 7. Eric Barnes; 8. Todd Shute; 9. Ethan Dotson; 10. Clay Money; 11. Jacob Murray; 12. Joel Rust; 13. Kurt Kile; 14. Travis Perry; 15. Dan Menk; 16. T.J. Smith; 17. David Brown; 18. Kyle Brown; 19. Shawn Ritter; 20. Richie Gustin; 21. Troy Cordes; 22. Jeff Waterman; 23. Chris Zogg; 24. Carter VanDenBerg.
Stock Cars – 1. Todd Reitzler; 2. Damon Murty; 3. John Oliver Jr.; 4. Tom Bowling Jr.; 5. Jason See; 6. Derrick Agee; 7. Dustin Griffiths; 8. Brian Mahlstedt; 9. Abe Huls; 10. Jay Schmidt; 11. Corey Strothman; 12. Jeremy Pundt; 13. Andrew Borchardt; 14. Jake Nelson; 15. Larry Karcz Jr.; 16. Ray Raker; 17.Cody Washburne; 18. J.J. Heinz; 19. Larry Parhen; 20. Nathan Wood; 21. Kody Scholpp; 22. Russell Damme Jr.; 23. Spencer Hopwood; 24. Cayden Carter.
Hobby Stocks – 1. Shannon Anderson; 2. Eric Stanton; 3. Leah Wroten; 4. Eric Knutson; 5. David Rieks; 6. Matt Olson; 7. Mike Kincaid; 8. John Watson; 9. Seth Janssen; 10. Justin Wacha; 11. Brok Hopwood; 12. Jeremy Swanson; 13. Nathan Ballard; 14. Jeremy Purdy; 15. David Simpson; 16. Ricky Miller Jr.
Northern SportMods – 1. Austin Howes; 2. Jake McBirnie; 3. Austin Becerra; 4. Tyler Soppe; 5. Arie Schouten; 6. Sam Wieben; 7. Daniel Fellows; 8. Brandon Dale; 9. Ethan Braaksma; 10. Brandon Setser; 11. Cory Rose; 12. Kevin Bethke; 13. Phillip Keller; 14. Kyle Keller; 15. Michael Carter; 16. Rick Barlow Jr.; 17. Brayton Carter; 18. Matt Webb; 19. Tory Mack; 20. Tony Johnson; 21. Blaine Webster; 22. Ryan King; 23. Jeffrey DeLonjay; 24. Jeff Frana.
Sport Compacts – 1. Barry Taft; 2. Jake Benischek; 3. Darin Weisinger Jr.; 4. William Michel; 5. Brandon reu; 6. Luke Benischek; 7. John Gill; 8. Jason Ash; 9. David Prim; 10. Ashton Blain; 11. Mike Hornung Jr.; 12. Robert Sturms; 13. Matt Milligan; 14. Chuck Fullenkamp; 15. Ryan Havel; 16. Josh Barnes; 17. Cody Bowman; 18. Jason Breuklander; 19. Jeffrey DeLonjay; 20. Kimberly Abbott; 21. Aaron Berry; 22. Oliver Monson; 23. Jake Dietrich; 24. Rachel Kile.