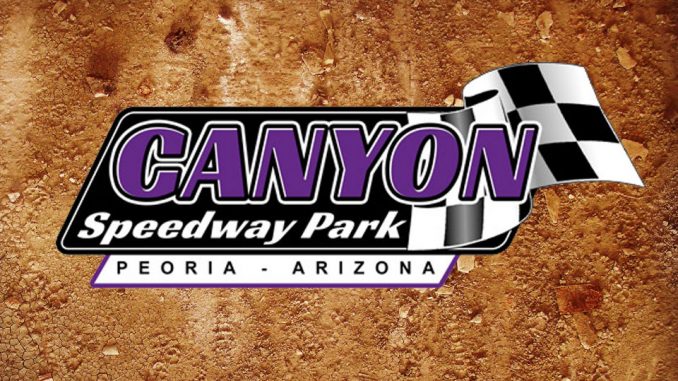 By Tony Steele
PEORIA, Ariz. (March 17) – Repeat winners were the story Saturday at Canyon Speedway Park.
Jason Noll wasted no time following a Leading Edge IMCA Modified restart and made what proved to be the race-winning pass of Ryan Roath to the inside when the green flag flew. Chaz Baca had a strong run going until a misstep allowed Joey Moriarity to get by to the inside, putting both MRT Racecar teammates on the podium.
For the first time in almost a full year the race fans at Canyon were treated to a full Allscapes IMCA Stock Car battle between Cody Center and George Fronsman. It seems between the two it's been one of them having some type of mechanical problem over the last six or so races. At last, both cars held up to full strength and the fight raged on.
Much of the race was led by Fronsman on the low side while Center continued to chip away on the cushion. Center finally got the run he needed to get by Fronsman and did look back.
For the third time this season, Joe Peterson recovered from an early trip to the hot pits en route to vic­tory lane in the Desert Restorations IMCA Hobby Stocks.
Billy Ayres Jr. captured his second win of the year in the brand new Mach-1 Sport Compact divi­sion.
Next up at Canyon Speedway Park on Saturday, March 31 will be the Easter Eggstravaganza, featuring the Leading Edge IMCA Modifieds and Arizona Differential IMCA Northern SportMods.