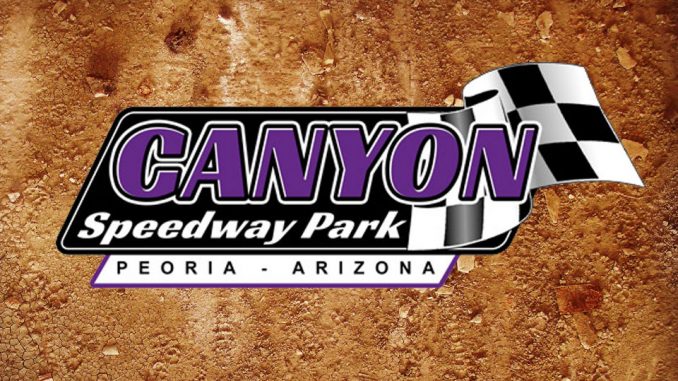 By Tony Steele
PEORIA, Ariz. (Jan. 25-26) – Two drivers already familiar with the view from victory lane at Can­yon Speedway Park made their way back to that locale following season-opening IMCA Modified Winter Challenge feature victories.
Ricky Thornton Jr. continued right where he left off last winter at Canyon, earning the $1,250 win on Saturday before Chaz Baca broke Thornton's streak with the victory on Sunday. Both drivers were already on the Fast Shafts All-Star Invitational ballot.
Andy Altenburg and Brad King each swept their respective divisions in the IMCA Sunoco Stock Cars and IMCA Sunoco Hobby Stocks, respectively, while Shelby Frye and Cody Thompson split Karl Kustoms Northern SportMod features.
Thornton beat fellow front row starter Zachary Madrid to the Saturday lead and outran eve­rybody en route to a dominating green to checkered victory. Madrid and Baca made up the top three.
John Parmeley paced the first two laps of the Sunday show before Baca made his way to the front. Baca walked away from the field until the ninth starting Thornton worked his way into the runner-up spot.
Their battle continued right up to a late caution that produced a green, white, checkered finish. Baca picked up the pace perfectly, putting just enough distance between himself and Thornton to pick up the win with Ryan Roath rounding out the podium.
Chanse Hollatz led the first six laps of Saturday's Stock Car feature before giving way to Alten­burg, who then ran in front to the checkers. Aaron Spangler and Ty Warner rounded out the top three.
There was more drama on Sunday as Altenburg took off from his pole starting position to lead the first half of the race before Hollatz took over the top spot. Hollatz maintained his lead until two laps to go, when Altenburg snagged the lead back just in time to pick up the checkers ahead of Hollatz and Cody Center.
Jason Crowe welcomed the new season from the pole position of the feature event but it was Jason Duggins leading the first six circuits around the speedway in the Saturday Hobby Stock lidlifter. On lap seven, King assumed the lead and ran away with the win, ahead of Duggins and Lyle Askren.
On day two, the luck of the draw was on King's side as he drew the pole. Leading from green to checkers, King swept the weekend, finishing the second feature ahead of Duggins and Steve Bit­ting Jr.
Frye beat Dom Askren in a drag race to the lead to start Saturday's Northern SportMod headliner. With fourth place starter Taylor Kuehl in tow, Frye led from start to finish on the way to her se­cond win of the month. Kuehl and Colorado racer Camron Spangler rounded out the top three. 
On Sunday, Andy Clower and Mike Wells were early leaders. Wells led until lap seven before giving way to the ninth starting Cody Thompson. Thompson held on the rest of the way to best Clower and Higgins for the second feature of the weekend.
The 2020 Winter Challenge rolls on next weekend with an open practice on Friday, Jan. 31. Rac­ing will be Saturday and Sunday, Feb. 1 and 2. Gates open at 11 a.m. with racing at 1 p.m.
The IMCA Modifieds will once again be racing for $1,250 each day and a spot on the Fast Shafts All-star Invitational Ballot. IMCA Sunoco Stock Cars and Karl Kustoms Northern SportMods both race for $1,000 to win with IMCA Sunoco Hobby Stocks going for $500.
Admission prices are $20 for adults. Seniors (60+) and military are $15 and children 11 and under are free. All-access pit passes can be purchased for $35 for adults while ages 7-11 are $20 and six years and under are free. All minors under the age of 18 must have a minor release form filled out and notarized prior to entry into the pits. The form can be found on the front page of the track website, www.canyonspeedwaypark.com.
Jan. 25 Feature Results
Modifieds – 1. Ricky Thornton Jr.; 2. Zachary Madrid; 3. Chaz Baca; 4. Alex Stanford; 5. John Parmeley; 6. Garth Dushanek; 7. Brent Schlafmann; 8. Jason Noll; 9. Leslie Gill; 10. Bailey Jones; 11. Shane Hinsley; 12. Bill Slocum; 13. Ross Statham; 14. Nate Warren; 15. Trevor Fitz-Gibbon; 16. Ryan Roath; 17. Chad Stevens; 18. Austin Kiefer; 19. Guy Norton; 20. T.J. Wyman; 21. Jeff Stafford Jr.; 22. Regan Tafoya.
Stock Cars – 1. Andy Altenburg; 2. Aaron Spangler; 3. Ty Warner; 4. George Fronsman; 5. Lon­nie Foss; 6. Cody Center; 7. Jason Josselyn; 8. Robert Werkmeister; 9. Dennis Losing; 10. J.C. Parmeley; 11. Tyler Vache; 12. Chris Boulware; 13. Raymond Doyle; 14. John Foster; 15. Chanse Hollatz; 16. Kenny Gill; 17. Leslie Gill; 18. Josh Werkmeister.
Hobby Stocks – 1. Brad King; 2. Jason Duggins; 3. Lyle Askren; 4. Jason Crowe; 5. Chandler Dodge; 6. Kurt Kesselring; 7. Paul O'Connor; 8. Steve Bitting Jr.; 9. Reven Bitting; 10. Kyle Wil­liams.
Northern SportMods – 1. Shelby Frye; 2. Taylor Kuehl; 3. Camron Spangler; 4. Cody Thomp­son; 5. Rex Higgins; 6. Dominique Askren; 7. Bryan Miller; 8. Steve Bitting Jr.; 9. Bill Lundock; 10. Speedy Madrid; 11. Clay Erickson; 12. Mike Wells; 13. Lyle Askren; 14. Shane Simper; 15. Kyle Salo; 16. Chuck Black; 17. Justin Erickson; 18. Brian Bullis; 19. Scott Kepner; 20. Tony Miller; 21. Da­rin Center; 22. Ty Weidner; 23. Joey Klemish; 24. Abby Meulebroeck.
Jan. 26 Feature Results
Modifieds – 1. Baca; 2. Thornton; 3. Roath; 4. Parmeley; 5. Madrid; 6. Noll; 7. Stanford; 8. Tafoya; 9. Kiefer; 10. Stafford; 11. Schlafmann; 12. Norton; 13. Warren; 14. Dushanek; 15. Jake Pike; 16. Jones; 17. Wyman; 18. Tony Martin; 19. Bill Miller; 20. Hinsley; 21. Gill; 22. Statham; 23. Slo­cum; 24. Stevens; 25. Fitz-Gibbon.
Stock Cars – 1. Altenburg; 2. Hollatz; 3. Center; 4. Spangler; 5. Josselyn; 6. Parmeley; 7. Fronsman; 8. Warner; 9. Zach Griggs; 10. Kenny Gill; 11. Dustin Jager; 12. Vance Honea; 13. Hannah Miller; 14. Doyle; 15. Losing; 16. Boulware; 17. Robert Cody; 18. Leslie Gill; 19. Foss; 20. Robert Werkmeister.
Hobby Stocks – 1. King; 2. Duggins; 3. Steve Bitting Jr.; 4. Virgil McArthur; 5. Crowe; 6. Wil­liams; 7. Ron Roe; 8. Kesselring; 9. Reven Bitting; 10. O'Connor; 11. Dodge.
Northern SportMods – 1. Thompson; 2. Andy Clower; 3. Higgins; 4. Clay Erickson; 5. Wells; 6. Center; 7. Madrid; 8. Spangler; 9. Bitting; 10. Lundock; 11. Dominique Askren; 12. Kuehl; 13. Sim­per; 14. Tony Miller; 15. Bullis; 16. Salo; 17. Drew Costa; 18. Lyle Askren; 19. Black; 20. Frye; 21. Bryan Miller; 22. Kepner; 23. Justin Erickson.